June 30, 2015
The Maryland Humanities Council (MHC) Chautauqua event is less than a month away, and in preparation for the free performances, MHC spoke with the scholar-performers headlining the events. The performances run from July 5th to July 15th. This week's interview is with Mark Megehee, performing scholar of Jim Thorpe. We spoke about Jim Thorpe's life, legacy, and what it means to bring Jim Thorpe alive through performance. Mark Megehee succinctly summarized Jim Thorpe's importance, and anyone wanting to know more, or even glean questions for the Chautauqua, will enjoy his words.
(MHC) What drew you to Jim Thorpe?
( MM ) I was recommended for this impression; it is an honor that I dreamed not of. Yet it does appeal to me. I belong to the same tribe (Sac and Fox of Oklahoma) as Thorpe and had a similar early life in a number of respects. I am drawn to him particularly because he inspired so many Native Americans, young and old, enhancing their self-esteem, pride of culture, and encouraging whatever dream they may have in life. In a wider sense, he personifies the American Spirit in its admiration of the underdog and confidence in the triumph of good sportsmanship.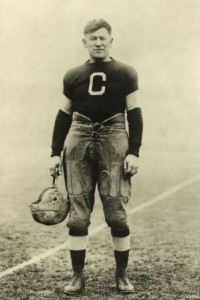 (MHC) How did you research Thorpe and prepare for your performance?
( MM ) I read several biographies; did research at the Oklahoma Historical Society (under the guidance of Dr. Bob Blackburn and Mr. Bill Welge) plus visited Thorpe's birth site; preserved home in Yale, OK; as well as the schools he attended in Haskell, KS and Carlisle, PA. From museum collections, I examined early specimens of sports equipment ca. 1910-1930.
>> Check out the schedule to see when and where Mark Megehee will be performing!
(MHC) What is the most interesting facet of Thorpe's life? What's a public misconception about him?
To me, the most interesting facet was Thorpe's astonishing athletic versatility. A misconception is that his favorite sport was a team sport; he preferred hunting or fishing–something he could do by himself.
(MHC) What's the most memorable audience question you've received?
( MM ) What tribe/clan I belong to (Sac and Fox of Oklahoma–Bear Clan), because it highlights some commonality we share. Same tribe, different clans, yes, but my grandmother and her brother–Emma and William Newashe– were classmates of Thorpe at Carlisle; my great uncle Bill played football with Thorpe.
(MHC) Do you have any favorite performance memories?
( MM ) Interacting with an audience while describing football feats and track feats of Thorpe, and my own experience.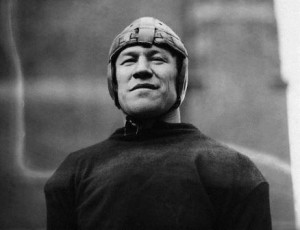 (MHC) Are there any other historical figures you'd like to portray?
( MM ) Native Americans: Reverend Frank Hall Wright, Choctaw evangelist to Native American tribes of southwest Oklahoma, ca. 1895. Tecumseh, Shawnee patriot chief and organizer of a great pan-Indian tribal alliance ca. 1810.
Also joining Mr. Megehee is Gwendolyn Briley-Strand as Wilma Rudolph and Gene Worthington as Babe Ruth. Watch some of our past Chautauqua's on our YouTube page, and don't forget to check the schedule to find an event location close to you. We hope to see you at the Chautauqua!