July 9, 2015
The following blog post is reposted from MDStories.com, a sports-oriented blog from the Maryland Humanities Council, which celebrates what makes Maryland sports unique, our state's sporting heritage, and sports fans whose lives wouldn't be the same without them.
This Saturday, July 11 marks the 101st anniversary of Babe Ruth's debut in Major League Baseball with the Boston Red Sox. Ruth led the Sox to a 4-3 win over the Cleveland Naps on that day in 1914. A Baltimore native, Ruth went on to win 7 World Series titles throughout his career as a major league pitcher and legendary hitter. His #3 jersey was retired by the New York Yankees in 1948, the year he died.
Today, Ruth's legacy lives on in many ways. Babe Ruth Baseball today includes over 60,000 youth teams with players ranging in age from 4-18. The Babe Ruth League World Series is played annually in Maryland at the Ripken Complex in Aberdeen, MD.
Interested in learning more about Babe Ruth – from "The Bambino" himself? See three iconic Maryland sports figures through July 15 with Chautauqua: Sporting Lives, presented by the Maryland Humanities Council at locations throughout the state. Living history performances of Wilma Rudolph, Babe Ruth, and Jim Thorpe bring these historical characters to life once again.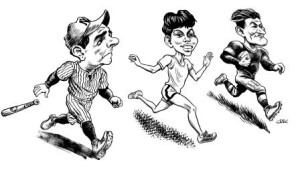 Illustrations by artist Tom Chalkley. All Rights Reserved.
References:
Babe Ruth. "Career Highlights and Awards." Accessed July 8, 2015. http://www.baberuth.com/