August 10, 2015
For many years I felt disconnected from my local community. Living in Baltimore and commuting four hours a day to and from work in Washington, DC made it hard to commit to regular projects and to engage with people and organizations in Baltimore. I needed a weekend activity to help me feel a sense of place and started volunteering at the local public library, something I continue to do even though I no longer work in DC.
A Project for Public Spaces blog post says "…when everything works together, libraries become places that anchor community life and bring people together." I can see this happening on any Saturday morning during my volunteer shift and also when I go to the library, just to be there.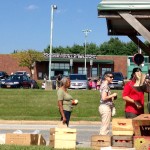 There are kids at the Reading Club table handing out brochures and awards to encourage reading among their peers. A notice reminds patrons of the Book Club meeting in September to discuss The Boys in the Boat, this year's One Maryland One Book selection. Another invites teens to a writers' workshop and to come and play with others during Intermediate Chess. An exhibit about local history is co-sponsored with the Baltimore County Historical Society. The members of a neighborhood association are in the Meeting Room debating proposed zoning regulations with local officials.
In the Children's Room a dad and his child are lying on the floor, their heads on a pillow and their minds in Curious George's adventures, in Spanish. A group chats by the New Fiction shelves about last week's visit by a local author; browsing the travel section, two women who had never met before find they will both be in Nepal at the same time.
There are adults and kids sitting by themselves completely immersed in a story, a manual, a job application. All around there are people helping other people learn: French, algebra, a poem by Maya Angelou, and the life of a Jamestown settler. A new immigrant family requests a library card and can't wait to bring their relatives when they come for a visit. Across the street, a local farmer sells fresh produce to library patrons and passersby.
There is as much activity happening outside the library walls as people connect to the library's services online – from borrowing e-books, to learning a language, using the research databases and accessing tax forms, voter registration links, information for veterans and so much more.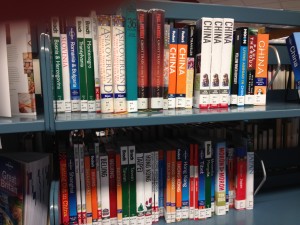 On the surface, the only thing that public library users have in common is that they live within the same radius. But when they enter its domain, they meet as mystery book lovers, job seekers, chess aficionados, teachers, gardeners, beginning readers, wheel-chair users, dog owners, and jazz fans. They come to learn, to laugh, to grow, to plan and make decisions, to play and to debate, to imagine and to understand.
As Diantha Dow Schull writes, "The more that libraries offer access to information, whether remotely or on-site, the more people seem to desire programs that bring them together in physical spaces, offering opportunities to discuss issues and share experiences in real time."
This is why libraries today are described as the new public commons. They work as anchors of civic life that can help revitalize neighborhoods and strengthen people's pride in the place where they live.
That is certainly how I feel when I am in the library.
Silvia Blitzer Golombek is a nonprofit consultant and serves as Secretary and Grant Committee Chair on the Board of the Maryland Humanities Council. Golombek has worked on issues related to youth participation, civic engagement, and community development, leading professional development, strategic planning and knowledge management initiatives at the Congressional Hispanic Caucus Institute, the International Youth Foundation, and Youth Service America. She also founded Kids in Action, a civic engagement program that engages elementary school age children as decision-makers and problem-solvers in their community. Golombek received her Ph.D. in sociology from the Johns Hopkins University, where she was an adjunct faculty member at the School of Professional Studies in Business and Education. Her blog can be found at CONNECTIONS: A blog about people, places, and social change.