December 9, 2015
As a third year student at the University of Maryland, Baltimore County (UMBC), I am studying History and Legal Policy, although currently I am at Newcastle University in the United Kingdom for the semester. My plans are to attend law school after I finish my undergraduate work, which is a deviation from my one-time intention of pursuing a Ph.D. in history. Although my long-term aspirations may have pivoted, I am still benefitting from the lessons I learned during my History Day adventure in 2013.
My History Day project was a research paper entitled, "History's Forgotten Turning Point? The Wars of the Roses and the Birth of Modern England," which explored how the Wars were a pivotal point in English — and world—history. The project was another part of the juggling act that became my senior year as college applications, multiple Advanced Placement courses, and high school sports all vied for my time. My AP World History teacher, Ms. Amie Sanner (now Mrs. Dryer), had made History Day a requirement for our class and although it would sometimes test my patience and time, I was ultimately happy for the opportunity.
Several months of hard work and late nights paid off. I earned first place in the research paper category in the school and county contests, and fourth place at the state competition. Although I did not advance to the national contest, I received the "Senator Thomas V. Mike Miller, Jr. Award for Excellence in Government History." My paper had taken me on quite a ride and taught me a lot about research and historical work. I did not realize then how I would continue to reap benefits of the experience once in college.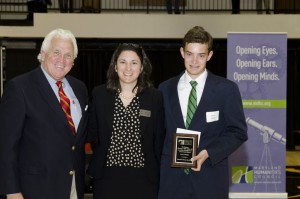 As I entered college classrooms in 2013, the skills I had refined the previous year gave me a head start. My writing was more effective; my evaluation, analysis, and deployment of evidence stronger; and I had a firm grasp of citations and footnotes. This allowed me to focus on honing my work to the higher collegiate standard.
At UMBC I have worked in the Career Center and something we discuss with students is the concept of "transferable skills"—the experiences and talents you learn in one job that may not directly apply to your next but nonetheless make you an attractive employee. Many of the things I learned from History Day could be deemed transferable skills because I use them not just in history courses, but in science, English, law, and other fields. The ability to analyze information, defend an opinion, and think about the "why?" portion of a question are all skills that were tempered by History Day. Even things like time and deadline management are essential to the college and career experience.
The opportunity to deepen your knowledge of a personally interesting topic by directly interacting and working with it is a unique one. It allows you step away from the textbook or classroom and really get your hands dirty with the study of history. The ability to analyze information, assess its reliability, assemble it into a coherent argument, and then defend that argument are skills that you will find beneficial and reusable no matter where you go in life. Good luck over the next few months and maybe I'll see you at the Maryland History Day state competition this spring!
Dylan Rogers Elliott
Maryland History Day '13