January 20, 2016
As a fellow participant in National History Day's Understanding Sacrifice program this past summer, I gained an entirely new appreciation for history by observing the harrowing scope of loss experienced in World War II.  Our two-week tour of northern Europe included visits to 6 overseas cemeteries, Cambridge, Normandy, Ardennes, Netherlands, Lorraine and Henri-Chapelle, all American cemeteries in the Netherlands, Germany, Belgium, France and England.  This experience allowed us to shape our lessons to honor the sacrifice of American soldiers and bring awareness to the cemeteries that are maintained by the American Battle Monuments Commission.  The lessons were developed by teachers from a variety of backgrounds and can be found on the website that was also created during the experience (http://abmceducation.org/).  A major focus of the program was to create lessons that appeal to a variety of disciplines and grade levels and inspire students to be personally connected with history.
As part of that personal connection, each teacher was tasked to research a fallen hero that is buried in one of the cemeteries we visited.  At the grave, we each delivered a eulogy that really connected the individual sacrifice made by American servicemen.  You can see pictures of the headstones, but until you see them up close, you don't truly feel the context of sacrifice.

The fallen hero I chose to research was PFC. James Vrtatko of Chicago, a medic in the 101st Airborne Division.  Vrtatko was part of the D-Day invasion, Operation Market Garden, and was taken prisoner during the Battle of the Bulge where he soon died of pneumonia in a German prison camp.  As a medic, Vrtatko had a very unusual war experience that required an incredible amount of courage not only to be a part of major battles in the European theater, but to face death and destruction on such a consistent basis.  He was always running to help others who were wounded, not soldiering on to advance mission objectives.  When Vrtatko heard the cry of "medic!" he knew he was heading into the destruction of people and never knew what he was going to come across at any given moment. Vrtatko constantly put others before himself so that they could receive medical treatment and live full lives.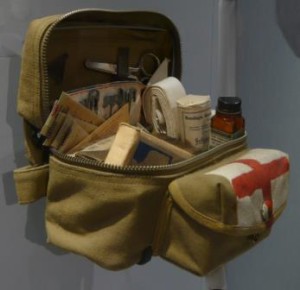 It was this selflessness of my fallen hero that inspired my lesson plan.  It is an interdisciplinary, activity-based lesson that is built around having students roleplay as a World War II medic and figure out how to treat patients coming in with the most common wartime injuries and illnesses. Students are dealt a deck of cards where one is selected as a medic, while others are selected to have war injuries like a bullet wound to the leg or an arm blown off. The student then goes through a process where he or she examines available resources and figures out how best to treat them.  The activity gets students involved in the process instead of just having them learn about it in a book.
As a science and History Day teacher, this experienced further solidified my belief in the History Day program.  Throughout my own education and into my career as a scientist and an educator, I see the interconnectedness of scientific understanding and history. It's often difficult to determine cause and effect because each domain impacts the other on so many levels. The fact that neither science nor history happen in a self-contained bubble is why I believe in the National History Day program, and even though I teach AP-level biomedical science courses, I have students who create projects and compete at the state level.  I explain to my students that good science is a historical field where published research is the cornerstone for work yet to come.  Each research project builds off of other people's experiments and ideas and is the basis for the next experiment. The opportunity to be a part of the Understanding Sacrifice program and engage in in-depth study of World War II added a new dimension to my understanding of how history drives science, and science drives history.
Brendan Gallagher is a teacher at Carroll County Career and Technology Center. Gallagher and Kamilah Williams of Suitland High School in Prince George's County were among 18 teachers selected nationally to participate in Understanding Sacrifice, sponsored by National History Day and the American Battle Monuments Commission.
Check out a blog post written by Brendan on a visit to the Ardennes American Cemetery in Belgium.