March 2, 2016
Every year at its annual meeting, the  National Council on Public History (NCPH) organizes a public plenary, free  and open to the public, not only conference attendees. This seems only right. NCPH  members are preservationists, archivists,  museum professionals, graduate students,  professors, and a wide array of others.  Although we may to have little in common  in our day-to-day work, we are united by  our common interest in community-based  history. As public historians, we strive to  be flexible and responsive, to place the  worries and interests of our audiences in  the center of our professional practice.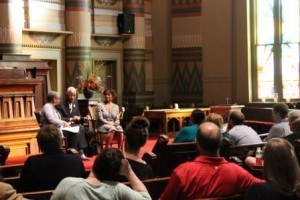 The NCPH is scheduled to meet in Baltimore from March 16 to 20. The conference theme is "Challenging the Exclusive Past." We began making plans for the 2016 meeting several years ago, and last winter, we identified a fantastic speaker for our public plenary, a scholar-performer whose work amplifies an often-overlooked aspect of American history and its particular roots in Maryland.
But, when Baltimoreans began to protest police brutality and contemporary racial inequality after the death of Freddie Gray in police custody in April, 2015, we felt strongly that our role as public historians required us to change our plans. We watched as both national and regional news outlets described what was happening in terms that did not seem to reflect the local experience. We listened to young activists articulating their perspective, identifying both the specificity of the events in Baltimore and its connections to a broader #BlackLivesMatter movement. We saw local photographers –both media photographers and freelancers—working to provide a meaningful counter the unflattering, unfair, and uncomplicated image of the protests and of the city. Historians have an important role to play in this process, too. But timing is everything. At this moment –while police officers are still on trial, while activists are still organizing protests, while policy makers are debating better strategies for addressing economic injustice and violence—the perspective of a single expert speaker might be lost or misunderstood or ignored.
In response, we designed a facilitated conversation that will serve as our public plenary. Titled The Uprising in Focus:  The Image, Experience, and History of Inequality in Baltimore, the public plenary will take place on Friday, March 18 at Ebenezer AME Church in the Sharp-Leadenhall neighborhood of Baltimore. Scheduled speakers include the photographers Devin Allen and J. M. Giordanao; Paulo Gregory Harris, founder of a non-profit organization designed to address economic injustice; Robert Birt and Devon Wilford-Said who participated in the 1968 protests after the murder of Dr. Martin Luther King; and Dr. Elizabeth Nix, a historian of Baltimore. The event is free and open to the public.
We have structured our public session as a facilitated conversation, because this is a moment for public historians to listen, to build relationships with individuals and in neighborhoods too long excluded from the interpretation of Baltimore's history, culture, and image. During the session, activists, photographers, and public historians will engage in a wide ranging conversation about what happened, why it happened, what it means, and what we can do about it together. We will also encourage significant participation from the audience. Through mutually respectful discussion, we hope to arrive at a deeper understanding of how, exactly, the tools historians use to understand the past might be useful for addressing the injustices exposed by the death of Freddie Gray.
The public plenary, sponsored by the Maryland Humanities Council, will be held at Ebenezer AME Church, 20 West Montgomery Street, Baltimore, from 6:00 to 7:30 pm. Parking will be available at two nearby churches: Martini Lutheran Church located at 100 W. Henrietta St., Baltimore, Maryland  21230; and Leadenhall Baptist Church, located at 1021 Leadenhall St., Baltimore, Maryland  21230.