March 16, 2016
by Brent D. Glass, Director Emeritus, National Museum of American History, Smithsonian Institution
I wrote 50 Great American Places with three goals in mind. First, I want to encourage historical literacy.  By this, I am not referring to the memorization of dates and names although that kind of information can be useful.  By historical literacy, I am talking about understanding the context of events and the relationships between people, places, and historical events. Perhaps the term historical curiosity is a better way to describe what I mean.  In any case, historical literacy is directly connected to being a citizen in a democracy.
Second, I want people to experience history first-hand through heritage tourism.  We can enjoy reading good books about the past but there is nothing like being at the Mt. Clare Shops in Baltimore or the Gettysburg Battlefield in Pennsylvania or the historic town of New Castle, Delaware to be inspired by the stories of these great historic places.  Visiting an authentic historic place stirs our imagination and inspires us to pursue greater knowledge about our shared heritage.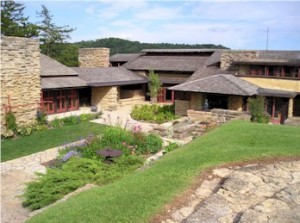 Finally, I wrote the book to encourage historic preservation.  We owe so much to the visionaries who made an extraordinary commitment to saving the physical presence of the past.  Beginning with the Mount Vernon Ladies Association who saved George Washington's home in Virginia in the 1850s, there are dozens of examples of preservation initiatives that allow us to enjoy our national heritage today.  In addition, we owe a debt of gratitude to the professionals and volunteers at historic sites throughout the country who continue this valuable preservation work today.  In my book, I include many sites that are managed by the National Park Service, a government agency that observes its centennial this year and plays a leadership role in historic preservation.
I used several criteria in selecting the sites in 50 Great American Places.  Regional representation was important to me as well as examples of sites from every time period including sites from pre-colonial periods.  I also selected sites that were open and accessible to the public.  I emphasized historic places where a major event had occurred rather than museums with great collections.  Above all, I identified places that reflect essential and enduring themes in American history.  These themes are 1) story of freedom; 2) the impact of war; 3) the influence of innovation and technology; 4) the contributions of diverse cultural traditions; and 5) the influence of America's dramatic landscape.
The sites featured in my book are great because they illustrate these major themes. My hope is that readers will understand that history is not inevitable.  It is the result of decisions by men and women who were trying to solve technical problems or address significant issues.  They were not certain of the result of their choices and they were doing their best.  When we visit the sites where they lived and worked, we should approach these historic places with a sense of empathy and gratitude.