April 6, 2016
There's nothing like a Pulitzer Prize to make industry professionals and average readers alike take note of great literature and the importance of narrative in our collective experience. We know that journalists, photographers, novelists, and historians often work for decades before they win the coveted Pulitzer Prize. Many more are recognized as talented leaders in their fields, but never receive the honor. But what do we know about the original Pulitzer, whose name has become so revered?
Joseph Pulitzer (originally "Politzer") was born in Hungary in the spring of 1847. Though he had many siblings, only Joseph and his brother Albert survived to adulthood. The brothers received the finest education available and each knew at least three languages. When he turned 17, Joseph Pulitzer was intent on joining the military. He was turned down by the British, Austrian, and French forces. In 1864, he finally enlisted in a German unit and began his journey to New York City to fight for the Union in the American Civil War, even though he couldn't speak English.
Pulitzer was discharged from the army within a year, leaving him desperate to find a job. New York was full of other unemployed veterans and limited jobs, which meant he was often jobless and sometimes homeless. In the fall of 1865, Pulitzer took a train to St. Louis, shoveling coal to pay for his passage across the Mississippi River.
Once he arrived in St. Louis, Pulitzer worked a series of odd jobs ranging from grave digger to mule caretaker. Finally, he was offered an opportunity to track land rights for the Atlantic and Pacific Railroad. Discovering law inspired Pulitzer to learn more. In 1867, he became a naturalized citizen. He was admitted to the Missouri bar within a year.
To Pulitzer, the pinnacle of St. Louis was the Mercantile Library. He spent entire days inside the Mercantile's stacks, delving into new subjects and strengthening his English. It was at this library where Pulitzer met Carl Schurz of the Westliche Post. Schurz was impressed by Pulitzer's intellectual appetite and hired him to work on the paper. As a reporter, Pulitzer was famous for his exhaustive detail, which tended to infuriate his peers.
In a strange turn of fate, Pulitzer was nominated for a city representative seat while covering a political  convention in 1869. At the age of 22, Pulitzer surpassed all expectation and won the seat. He quickly made his mark as a staunchly anti-corruption official. Within three weeks, his accusations put him in physical danger. A local contractor, whom Pulitzer had accused of being corrupt, punched Pulitzer and Pulitzer shot him in the leg. The incident stunted his political future and Pulitzer threw himself back into his work as a journalist.
In 1872, Pulitzer was offered and accepted part ownership of the Westliche Post, coupled with the position of managing editor. He sold his share in 1876, using the profits to travel home to Hungary and to buy the St. Louis Dispatch once he returned to Missouri. He convinced the owner of the Post to merge with the Dispatch, creating the Post-Dispatch. Pulitzer called the paper a "vehicle for truth," and used the platform to denounce corrupt officials.
While Pulitzer made many enemies, he gained public support. His personal life also flourished; he married Kate Davis in 1878, with whom he would have seven children. Yet for all his success, Pulitzer's health was in decline. And though he knew blindness was eminent and his nervous system would only get worse, Pulitzer could not pass up opportunity when he saw it. In 1883, he purchased the New York World and moved back to New York City. Pulitzer continued to manage both the Post-Dispatch and the World, often from his soundproof bedroom or his yacht. After a brief stint as a congressman, Pulitzer surrendered his seat and focused on building the World's power and reputation. The World became known for its investigative journalism, including coverage that ended Standard Oil's monopoly and forced campaign contributions to be public.
However, even Pulitzer was not immune to the temptations of competition. In 1895, William Randolph Hearst bought the New York Journal, the World's competition. Desperate to sell more papers, Hearst and Pulitzer practiced "yellow journalism": their papers were dominated by shocking reveals, glitzy photos, and gory headlines. Nearly a decade passed before Pulitzer would once again report only facts.
Despite his mounting health problems, Pulitzer's intellectual power never dimmed. Secretaries were hired to read and banter with him. He controlled the editorial page of the World and the Post-Dispatch until his death in October 1911.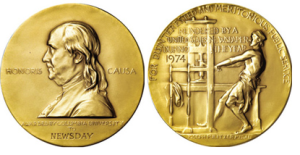 Prior to his death, Joseph Pulitzer created a will in 1904 that would help to cement his legacy in the field of journalism. Two million dollars was allocated to Columbia University to go towards the creation of a journalism school; in 1912, the Columbia University Graduate School of Journalism was established. Its inaugural student body consisted of over 100 graduate and undergraduate students from twenty-one countries. In addition to the journalism school, Pulitzer also stipulated that $250,000 would be "applied to prizes or scholarships for the encouragement of public service, public morals, American literature, and the advancement of education." Initially awarding prizes in journalism, letters, and drama, the number of prizes awarded has increased to twenty-one and now include prizes in photography, music, and poetry.
The first Pulitzer Prizes were awarded on June 4, 1917:  Herbert Bayard Swope of New York World (Reporting); New York Tribune (Editorial Writing); With Americans of Past and Present Days, by His Excellency J.J. Jusserand (History); and Julia Ward Howe, by Laura E. Richards and Maude Howe Elliott assisted by Florence Howe Hall (Biography and Autobiography). Pulitzer Prize recipients over the years have included: Arthur Miller (Drama, 1949), Bob Dylan (Special Citation, 2008), Toni Morrison (Fiction, 1988), and John Steinbeck (Fiction, 1940). Three Pulitzer Prize winners will be featured in our annual Chautauqua in July.
MHC is commemorating the centennial of the Pulitzer Prizes with a year-long series of events highlighting the impact of this award-winning work on our lives.
These events are part of the Pulitzer Prizes Centennial Campfires Initiative, a nationwide celebration funded by the Pulitzer Prizes, in partnership with the Federation of State Humanities Councils, and made possible through a $1.5 million grant from the Andrew W. Mellon Foundation.
Programming began in March with panel discussions featuring acclaimed journalists discussing their craft and will culminate in the fall at a special event featuring Pulitzer Prize-winning author Taylor Branch.
Join us at one of our upcoming "Journalism & Its Power to Inform" panels. All panels are FREE, open to the public, and begin at 7 p.m. at The Baltimore Sun, 501 N. Calvert St.
• April 19: Challenges Faced by Baltimore – Justin Fenton, Erica Green, E.R. Shipp (Pulitzer 1996), Diana Sugg (Pulitzer 2003)
• May 10: The Environment – Will Englund (Pulitzer 1998), McKay Jenkins, Elizabeth McGowan (Pulitzer 2013), John McQuaid (Pulitzer 1997, 2006)