August 17, 2016
by Jennifer Ferretti
In 2015, bLAMcollective, Baltimore Libraries, Archives, and Museums collective, was born on Twitter. As a group of individuals who are part of a lateral, non-hierarchical group who live to a large extent on social media, the collective's name and it how it looked on phones, tablets, computers is extremely important. The concept and purpose, however, were more thought out and deliberate.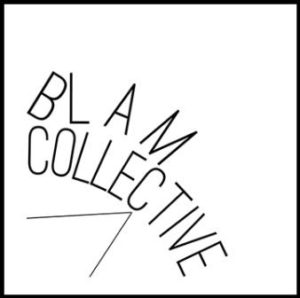 bLAM is for librarians, archivists, museum and cultural heritage professionals, but also for those who utilize materials held in those institutions and organizations, whether for personal research, in the classroom, journalistically, or through freelance work. The collective is not limited to professionals in the field, nor is a particular degree required to join. bLAM works toward not only networking and educating ourselves, but also sharing what we do and where we want our professions to go.
The idea of sharing and connecting with my community of library and information science (LIS), museum, and technology professionals started when I was completing my masters degree at Pratt Institute in New York City. After receiving my undergraduate degree at the Maryland Institute College of Art, I worked for six years in Baltimore, where I built strong professional relationships and developed a passion for archives, libraries, and digitization of collections.
During the years in Baltimore before graduate school, I processed a collection of over 7,000 photographs by Afro-American newspaper photographer Paul Henderson, curated a solo exhibition of his work, and helped plan a public program at the exhibition opening. I left Baltimore feeling that my work played a small part in helping to lift some assumptions about the Civil Rights Era in Baltimore, the focus of the Paul Henderson show and program. One of those assumptions being that it did not begin as early as it had, which was around 1935.
When I walked into my first class in grad school, I saw several people of color, such as myself. I was elated. I had never seen so many minorities at an LIS-related function. Months later, I told a good friend in the program who emigrated to NYC from the Dominican Republic during her teenage years about my feelings. Her perspective, walking into the same class, was completely different. She was disappointed at how few minorities were in the class, and her words were, "Come on New York, we can do better." Talking with her about this made me think I could and should ask more of the profession as well as consider how I could personally help it "do better."
Librarianship is so much more than books on shelves. One of its main functions is to teach how to gain access to information. And information is every single thing around us — art, politics, economics, culture. Librarianship is overwhelmingly white and female.[1] As a first generation American Latina, I never saw a librarian like me growing up. As a result, I feel it is imperative not only to promote the profession in general, but to also be an active participant in my profession in order to get a seat at as many tables as possible.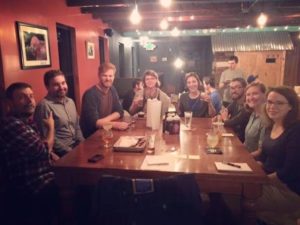 After returning to Baltimore, I knew I wanted to start a group that served as a place to meet people, talk about work in a non-stressful environment, and learn new things. Creating a group that limits who can join was never something I considered. I'd much rather be part of a group that fosters discussion around difficult or unpopular topics while focusing on outreach to minorities to have a seat at their community table. The second bLAMcollective meetup was a discussion about whiteness and librarianship based on Angela Galvan's article "Soliciting Performance, Hiding Bias: Whiteness and Librarianship." We talked openly and honestly about how to combat bias in the hiring process and who sits on hiring committees and why. Other meetup activities included project shares and what we call "say hello" happy hours.
Typical bLAM-mers are people who collect, organize, analyze, and disseminate information, those who curate and promote cultural literacy, and those who educate and consistently conduct research. A lot of these activities take place online or have an online component, which requires digital skills. My graduate school program taught me to be adventurous when it comes to technology. Just as I hope to empower students at my library, I hope that bLAM is a place where people feel empowered to try something new.
bLAM began hosting a series of free tech-based workshops called #bLAMclass that are tool and topic-specific. For example, our first two workshops were on the exhibition publishing platform Omeka and the web-based repository for sharing code, data, and documentation, GitHub. Future workshops will include personal digital archiving, mapping/geographic information systems, and creating information visualizations.
A collective like bLAM provides the space to improve digital skills and learn new things from colleagues in a nonjudgmental environment. The libraries, archives, and museums professions are advanced by stepping outside of one's own institution, openly sharing, asking questions, and giving feedback. That's why bLAM's tagline is here to share.
The #bLAMclass series will continue in the fall.
Jenny Ferretti is the Digital Initiatives Librarian at the Maryland Institute College of Art's Decker Library. @citythatreads
---
[1]American Library Association. Diversity Counts 2009-2010 Update http://www.ala.org/offices/sites/ala.org.offices/files/content/diversity/diversitycounts/diversitycountstables2012.pdf