December 28, 2016
Happy Holidays from Maryland Center for the Book at Maryland Humanities! Whether you're curled up on vacation, grabbing the next train home, or just looking for an engrossing read to stave off the post-holiday blues, check out one of the books below. It could be the 2017 One Maryland One Book pick!
The 2017 One Maryland One Book theme is "Home & Belonging". Readers across Maryland suggested 140 unique titles via email and the Maryland Center for the Book Facebook page. Our committee narrowed the list to the top 10 and will select the top 3 titles in late January.
Follow us on Facebook and subscribe to Maryland Humanities' e-News to get the latest updates on the selection process and be the first to hear what we'll be discussing across our state. We will know the 2017 selection in February or March. Learn more about the criteria and process on our website.
Top 10 titles under consideration for One Maryland One Book 2017
About One Maryland One Book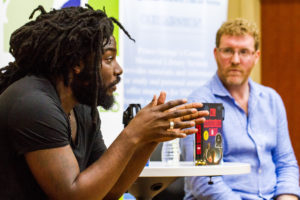 One Maryland One Book authors Jason Reynolds and Brendan Kiely discuss All American Boys at Prince George's County Memorial Library System's Oxon Hill Branch, as part of the 2016 Author Tour.
When we read a great book, we can't wait to share the experience and talk about it with others. That's one of the joys of reading. In that spirit, Maryland Humanities created One Maryland One Book to bring together diverse people in communities across the state through the shared experience of reading the same book.
One Maryland One Book programs, including an author tour, take place each year in the fall. We invite you to participate in book-centered discussions and related programs at public libraries, high schools, colleges, museums, bookstores, and community and senior centers around the state. A calendar of free public events will be available online this summer.
What do you think of the 2017 Top Ten list? Have you read any of the titles and if so, what did you think? Let us know by posting a comment below! Please share this news with fellow readers from Mountain Maryland to the Eastern Shore.