December 21, 2016
By Siobhan Hagan
In Charles Dickens' "A Christmas Carol," Ebenezer Scrooge begs the Ghost of Christmas Past to remove him from reliving painful memories. "I told you these were shadows of the things that have been," said the Ghost. "That they are what they are, do not blame me!"
While we can't all be like Ebenezer Scrooge and have our own Ghost of Christmas Past to transport us through the "shadows of the things that have been," luckily we have the next best thing: the moving image. Nothing makes the past come alive quite like seeing it and hearing it documented in real time, through the power of audiovisual recordings. Not just the commercial feature films of "Miracle on 34th Street" or "A Christmas Story," but the hours of home movies, local news, cable access TV, industrial films, advertisements, and more, that document the history of many underrepresented areas and communities of the United States. Much like the Ghost of Christmas Past, this audiovisual legacy is easily snuffed out: specialized expertise and cost are required to preserve these quickly degrading artifacts for viewing by present and future generations.
That is why I helped to create the Mid-Atlantic Regional Moving Image Archive, also known by its acronym "MARMIA" (pronounced like "Narnia"). MARMIA is a 501(c)(3) organization based in Baltimore, Maryland, dedicated to the preservation and access of the U.S. Mid-Atlantic's moving images and recorded sounds. We not only provide discounted audiovisual preservation services to regional non-profits, but we also collect content as well: audiovisual documentation of people and/or places from the Mid-Atlantic, or media that is made by a Mid-Atlantic resident.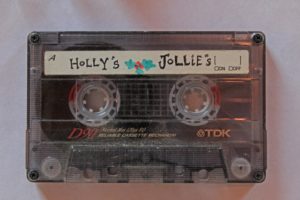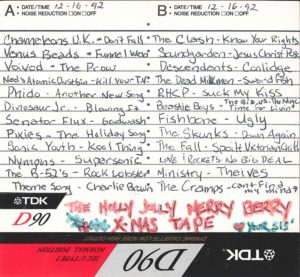 In March of 2016, MARMIA held an event at Blue Pit BBQ and Whiskey Bar that celebrated audio compact cassette mixtapes. We asked attendees to bring in their mixtapes to be digitized, documented, and preserved. This event was in partnership with foundscapes, a project led by one of MARMIA's board members, Natalie Cadranel. foundscapes aims to map the cultural heritage of the early 1970s through the late 1990s by collecting mixtapes created by and for individuals. As proclaimed on their website, "when viewed through a larger lens, [these tapes] provide a record of trends in regionalism, mood, and economy of the era."
One of my favorite mixtapes from the event is also seasonably appropriate, "The Holly Jolly Merry Berry X-Mas Tape" from December 1992. Like most mixtapes, it is a compilation of well-known and lesser-known musical artists and genres, including a local Maryland band (Phido). But it also documents so much more: when we interviewed the donor, we found out that it was recorded by his sister, at the time a female college radio DJ. She gave it to him back home in Maryland for Christmas, as he said "making sure I had good music." We also found out that his sister had tragically passed away a few years ago, making this so much more than just a mixtape.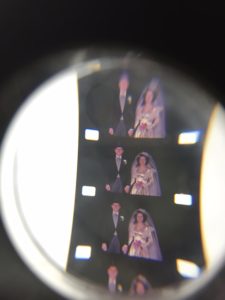 Another of MARMIA's recent acquisitions was a collection of home movies taken by a Baltimore necktie manufacturer, world traveller, and art collector, A. Harvey Schreter. Why would we want to collect someone else's home movies, you ask? No one can explain it better than the non-profit Center for Home Movies: "In a hundred years, and even today, your home movies will contain unique and precious documentation of a way of life – from the cut of fashionable clothing to the eroding contours of a beach." To demonstrate this, MARMIA would like to share a home movie of A. Harvey Schreter's marriage to his wife, Phyllis Kolker, in a Jewish ceremony in Baltimore on February 1, 1942 (thank you to DANSK Film Digitization for the wonderful transfer and to the Schreter family for the donation).
History and memory come back to life through moving images and recorded sounds. MARMIA will work every day to keep these "shadows of the things that have been" as they were. Please follow and support our journey through our website, social media, and Internet Archive presences. Happy holidays!
About the Author:
Siobhan Hagan is the President and CEO of MARMIA and was born and raised in Maryland. She holds her M.A. in Moving Image Archiving and Preservation (MIAP) from NYU's Tisch School of the Arts, and started her career as the first Audiovisual Preservation Specialist at UCLA Library. She has worked in a variety of collecting organizations throughout her career, and is currently the Director of Public Programs and Outreach at the Old Greenbelt Theatre.
---
The opinions expressed by guest contributors to the Maryland Humanities blog do not necessarily reflect the position or policy of Maryland Humanities and/or any of its sponsors, partners, or funders. No official endorsement by any of these institutions should be inferred.