October 18, 2017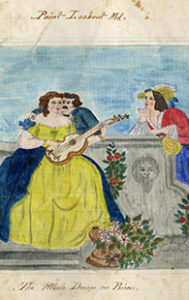 The best place to begin is at the beginning. Starting with the table of contents, Musical Maryland: A History of Song and Performance from the Colonial Period to the Age of Radio by David K. Hildebrand (myself) & Elizabeth M. Schaaf, with Contributions by William Biehl is the first comprehensive survey of the music emanating from the Old Line State. Schaaf and I explore the myriad ways in which music has enriched the lives of Marylanders. Additionally, Biehl contributed some sidelight anecdotes and a section of color plates of very handsome sheet music covers.  From the drinking songs of colonial Annapolis, the liturgical music of Baltimore's Zion Lutheran Church, and the work songs of the tobacco fields to the exuberant marches of late nineteenth-century Baltimore Orioles festivals and the triumphs of the Baltimore Opera Society, this richly illustrated volume explores more than 300 years of Maryland's music history. In every detail, including our official publishing date September 4th, we hoped to honor Maryland's musical contributions. We chose this day since it was the 203rd Anniversary of F. S. Key observing                                                           "the dawn's early light."
This book touches on the development of music clubs like the Tuesday Club dating to 1745, and the later Florestan Society and H. L. Mencken's Saturday Night Club, as well as lasting institutions such as the Peabody Institute and the Baltimore Symphony Orchestra. Yet Maryland's soundscape also includes militia quicksteps, sea chanteys, and other work songs. The book chronicles "The Star-Spangled Banner"—perhaps Maryland's single greatest contribution to the nation's musical history—and also the wide range of music created and performed by Maryland's African American musicians along Pennsylvania Avenue in racially segregated Baltimore, from jazz to symphonic works.
Full of musical examples, engravings, paintings, drawings, and historic photographs of composers and performers, Musical Maryland also describes the places around the state in which music flourished.  This is an engaging, authoritative, and bold look at an endlessly compelling subject.
Among other book-related presentations, signings and concerts, two stand out – on Oct. 19th at 7 pm at George Washington's Mount Vernon, and in Baltimore at 6:30 pm at the George Peabody Library.
It's at the Fred W. Smith National Library for the Study of George Washington where Ginger and I will give concert based on Musical Maryland, but with a focus on connections to George Washington (before the Revolution Washington visited Annapolis 4 times, attending the races, the theater and dancing assemblies).  He concluded his military career in a ceremony in Annapolis in 1783, after which a great dinner was given, complete with music by two violins.
The Peabody Library event serves as the official publication celebration, and it is sponsored both by Johns Hopkins University Press and the Enoch Pratt Free Library. Elizabeth and I will both speak, and Bill will attend (having a table with his and my related publications).
To hear some recordings of music referenced within the book, please visit the sample music page
---
Disclaimer: The views and opinions expressed on our blog do not necessarily reflect the views or position of Maryland Humanities or our funders.