October 11, 2017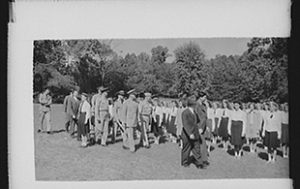 Most of us have heard of Rosie the Riveter and the role that women played in WWII. But what did kids and teenagers do to help the war effort? Maryland Humanities explored that question as part of a Teaching with Primary Sources Inquiry Kit.
TPS Inquiry Kits are the result of a partnership between Maryland Humanities, Maryland Public Television, and the Maryland State Department of Education, and are funded by the Library of Congress Teaching with Primary Sources program. This new collection of Inquiry Kits allows students to select a research topic of interest and evaluate themed primary sources from the Library of Congress. From life in the early American colonies to the modern-day role of the United States, the inquiry kits examine social studies/history themes and align to Maryland curriculum units.  Inquiry Kits are great for use in classroom activities, or as starter kits for History Day projects.
The Inquiry Kit "Teenagers in WWII: The Victory Corps" features Farm Service Organization photographs from around Maryland. The photographs show students at Montgomery Blair High School doing military drills as part of their Victory Corps service. Students at the school also ran a day nursery for the children of women who worked in local factories. Walter Spangenberg of Frederick served in the Civil Air patrol, as did many high school students, while others worked on farms to replace the men who had gone overseas. Young people with disabilities at the Maryland League for Crippled Children made small parts for airplane engines, and students across the state collected scrap metal. Though these young people were not in combat their lives were altered and changed by WWII. They pitched in to help civilian life carry on while armies advanced and retreated.
The Inquiry Kit includes a link to a Maryland State Archives site about the Victory Corps, a student organization that trained both boys and girls to aid in the war effort by learning first aid, navigation, marksmanship, or other skills. A central focus of the Victory Corps was the physical fitness of America's teenagers, because military officials were shocked at the physical condition of new recruits. As a way of remedying the fitness officials found lacking, members of the group were required to pass physical exams. Maryland was home to a number of Victory Corps, given its proximity to the nation's capital, like Montgomery Blair High School, Sherwood High School, and Ellicott City High School. There is no doubt that Maryland teenagers did their bit.
The "Teenagers in WWII" Inquiry Kit provides a great starting point for students looking for an unusual Maryland History Day project topic. The 2018 National History Day theme is Conflict and Compromise, and this topic fits well. What compromises did teenagers have to make in their educational and social lives in order to take part in WWII, an international conflict? What compromises did employers have to make when they took on students to replace their regular work force? Did any conflicts arise?
These Maryland students, and others like them from across the country, deserve to have their place in history. Maryland Humanities hopes that the "Teenagers in WWII" Inquiry Kit will draw attention to their story and encourage others, especially History Day students, to further explore this topic.
---
Disclaimer: The views and opinions expressed on our blog do not necessarily reflect the views or position of Maryland Humanities or our funders.