December 20, 2017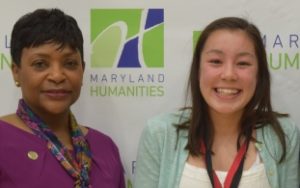 Abigail Setzfand, a 9th grade Calvert County History Day student, received a silver medal at the 2017 National History Day competition in the Junior Individual Website Division for her project on Lewis Hine, a documentary photographer, entitled "Lewis Hine: Focusing the Lens on Child Labor," which you can explore here. Abigail and the eighteen other Maryland students who won awards at the National History Day competition will be celebrated by the Maryland State House and Senate on January 29, 2018. We asked Abigail about her award winning project and the lasting impact it has made on her.
Q: Could you describe your History Day project?
AS: Education is very important to me so I knew I wanted to learn more about education leaders in America.  I was introduced to Lewis Hine in my social studies class.  I was initially drawn to his photographs, but as I learned more about his drive to improve children's future and his innovative problem solving and selflessness, he showed me the multifaceted nature of how to take a stand.
Hine couldn't have been a better person to portray last year's theme of "Taking a Stand." He sacrificed everything to make sure the children were heard and took a stand against child employers unlike anyone had ever done before. He used a new technique of reform with his camera and published his photographs in ways only profitable to the children. Hine also took a stance against the social norms of photography.
The History Day website platform allows me to not only get my information across in words, but also in photographs and videos. My websites provide interactivity with the viewer so that I can get their attention and get my point across. After three years of experience, this year I really wanted to get as many forms of multimedia in my website, as well as pack my website with unique information carried out in many different ways. Creating my website for last year's project was so much fun, and I was able to build my knowledge on website making.
Q: How did your research into Hine influence your interest in social activism? AS: My project taught me a lot about social justice. Hine came from a poor family, and therefore was forced to work as a child laborer.  Luckily for him, unlike most child laborers, education freed him from a life of poverty. 
Child laborers also suffered at the hand of employers who exploited kids for their own financial and operational benefits.  While most of society ignored the plight of child workers during the industrial revolution, Hine took action and applied his talents to fight against this destructive injustice. I am inspired by Lewis Hine and his courage to act against injustice and exploitation of vulnerable populations. As such, I have decided to learn about the process of governing through my student government.  I am also involved in the Calvert County's Association of Student Councils (CASC), participating on the board and leading fundraising.
I chose to apply for this position because through fundraising events, I want to engage our student body to become more active in improving the health of our school and our community. I recently implemented a fundraiser in our community around the T.V. show "Survivor." This got our community excited about our organization and kicked off our new year. I was able to reach out to over 200 students in our community, engaging students across Calvert County in our program.
I look forward to engaging more students to improve our learning community. While I am not helping to solve significant inequities in my county or school through my involvement in my school government and CASC, I want to continue to find opportunities to apply my skills and talents to open opportunities for all kids and people. Lewis Hine has opened my eyes to the danger of standing by the sidelines – it's important to participate, act, and be a part of the change.
Q: You found ways to bring last year's History Day theme, into your everyday activism. Do you see ways that this year's theme, "Conflict and Compromise," shows up in your work with student government?
AS: Through my Lewis Hine project, I was very moved by his conviction to take action and not stand by the sidelines.  As such, I decided to learn about a process for change by getting more involved in my student government and taking part of the Calvert Association of Student Councils' executive board which allowed me to be a part of the decisions that the organization makes.
This year's theme "Conflict and Compromise" is also so rich.  We as 'teenage' students are experts at conflict!  While I joke about that, the reason we do excel in this area comes from our natural sense of curiosity that results in a lot of ideas which often collide.  I think the topic this year helps students look beyond idea conflict and move towards togetherness through compromise.  The combination of conflict and compromise can help us learn to knit what appear to be opposing opinions to consensus focused solutions.  Working as a part of the Calvert Association of Student Councils, I observe this in action at every meeting!
---
Disclaimer: The views and opinions expressed on our blog do not necessarily reflect the views or position of Maryland Humanities or our funders.