January 31, 2018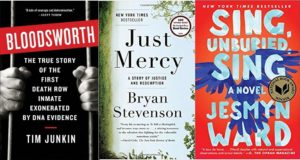 Readers from all over Maryland provided their suggestions based on the 2018 One Maryland One Book theme of "Justice." The selection committee has been hard at work since November and recently narrowed the list down to three titles. Maryland Humanities provides free books to public libraries, public high schools, and a limited number of other educational organizations, so that the entire state has the opportunity to participate in this special statewide book club.
The titles that make up this year's One Maryland One Book top three are ones that confront relevant issues in both our state and our nation as a whole. On our list we have the true crime account of the first man in the United States to be freed from death row by DNA evidence right here in Maryland, Bloodsworth: The True Story of the First Death Row Inmate Exonerated by DNA by Tim Junkin, an award-winning novelist from the Eastern Shore of Maryland; a nonfiction social justice firsthand account of attorney Bryan Stevenson's work to "defend the poor, the wrongly condemned, and those trapped in the furthest reaches of our criminal justice system" in Just Mercy: A Story of Justice and Redemption by Bryan Stevenson; and the 2017 National Book Award winner for fiction, which covers issues ranging from mass incarceration, child abuse, relationship violence, drug abuse, and more as a dysfunctional family takes a road trip through the rural South and Midwest in Jesmyn Ward's profound and heartbreaking novel Sing, Unburied, Sing.
All three titles provide ample programming opportunities that can be held in libraries and classrooms. From Mountain Maryland to the Eastern Shore, residents can relate to the injustices touched on in these three books. Whether or not your pick from the top three becomes the One Maryland One Book, the other two titles will broaden minds by offering an opportunity to explore the injustices of others. The book for 2018 will be revealed in March via Maryland Humanities and Maryland Center for the Book social media and on our website.
---
Disclaimer: The views and opinions expressed on our blog do not necessarily reflect the views or position of Maryland Humanities or our funders.