July 6, 2018
For the 24th season of our Chautauqua living history series, Seeking Justice, we are commemorating three Americans with a commitment to justice. Chautauqua continues this week and runs through July 15. Communications Specialist Sarah Weissman interviewed and wrote a feature on Susan Marie Frontczak, the Chautauqua actor-scholar who portrays Eleanor Roosevelt.  
---
"I needed a good dose of an American with a strong moral compass," Susan Marie Frontczak says, explaining what attracted her to portray Eleanor Roosevelt. Prior to Roosevelt, Frontczak played Marie Curie and Mary Shelley. She performs as Eleanor Roosevelt for the Maryland Humanities living history series, Chautauqua. Frontczak's first performance for Chautauqua: Seeking Justice was Friday night. Tonight, she performs in Harford County.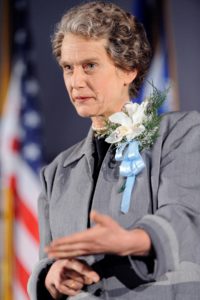 Frontczak didn't always feel confident enough to portray Roosevelt. "At first I balked, thinking, 'How dare I try to portray such a well-known person?' But then I found people who didn't know her story, and her story needs to be known."
Some of Frontczak's wariness came from how much Roosevelt accomplished throughout her lifetime. "I wondered, 'How could anyone encompass such a large life in a 40-minute monologue? I've concluded that's not possible." Rather than back away, Frontczak created four different programs as the icon.
"Her life was so multi-faceted," Frontczak says.  "She was either involved in or brought attention to so many different programs, causes, and issues across forty or so years." Fair labor laws, civil rights, and women's representation in government numbered among the many causes Roosevelt advocated for. Frontczak names Roosevelt's humanness and imperfections as some of the figure's most inspirational qualities.
"Eleanor Roosevelt had to overcome layers of privilege and prejudice, assumptions, and bias embedded in both her upbringing and the times she lived through as an adult," Frontczak says. "Watching her unlearn and overcome limitations inspires me, and I hope might inspire others."
 To Frontczak, Roosevelt serves as an accessible model for creating a more fair and just world. "If you have to be flawless to achieve what Eleanor Roosevelt achieved, we might as well all hang it up now," she says. "Seeing her drive to learn, her willingness to change, her continued commitment to growing into the best person she could be gives me a reason to strive." This is evident in reactions from audience members who have seen Frontczak perform as Roosevelt.
"The biggest praise is when someone from the audience (of any age) says they feel energized to become a more active citizen," Frontczak says. "Eleanor couldn't ask for anything more."
---
Sarah Weissman is the Communications Specialist for Maryland Humanities. She previously served as the Communications and Fundraising Assistant at Woodbourne Center and the Marketing and Communications Director at Glass Mind Theatre, an all-volunteer company. Weissman has a B.A. in English from Goucher College, with a Concentration in Writing, as well as a Minor in Communication and Media Studies. Disclaimer: The views and opinions expressed on our blog do not necessarily reflect the views or position of Maryland Humanities or our funders.