July 12, 2018
For the 24th season of our Chautauqua living history series, Seeking Justice, we are commemorating three Americans with a commitment to justice. Chautauqua continues this week through July 15. Communications Specialist Sarah Weissman interviewed and wrote a feature on Bill Grimmette, the Chautauqua actor-scholar who portrays Frederick Douglass. This year is the Frederick Douglass Bicentennial, the great man having been born 200 years ago on Valentine's Day.

---
Bill Grimmette tells me the following: one day, in the 1800s, a governor visited the White House and approached who he thought was the President of the United States at the time. "Mr. President?" he said. The man's response was: "I am not the president, I'm Frederick Douglass."
Grimmette portrays the famous abolitionist at Chautauqua 2018: Seeking Justice.  "The impact of that experience on all concerned must have been deeply very profound," he says. The anecdote is only one of multiple stories about Douglass mostly unknown to the general public.  "I learned so many new and surprising things that it was difficult [to] ponder why we never knew them." There are also missing pieces of Douglass' legacy that not even Grimmette could discover in his research.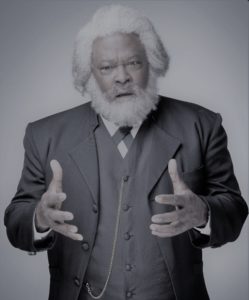 "Douglass had a very marvelous liberal education as can be gleaned from his many speeches and writings. Yet it is not known how he actually came by it," Grimmette says. "It is one thing to learn to read but quite another to learn WHAT to read and yet another, still, to acquire those reading materials. What is most needed is just how Douglass acquired such a magnificent education without ever matriculating in a dedicated learning environment. To know that would be of greatest value to those shut-out from our more endowed schools."
Grimmette has been portraying Douglass since the 1990s for the Maryland Humanities living history series.  Initially, Grimmette was drawn to Douglass' speeches related to the constitution. "I was always curious about the juxtaposition of slavery and the constitution but was pleased when Douglass told of his great dilemma along similar lines and how he resolved it," says Grimmette. "This made me want to read anything he ever touched."
In his different presentations as Douglass, Grimmette uses the theme to focus his research and performance. He explains the aspect of Douglass' life that most interests him regarding Seeking Justice. "His efforts to run away from slavery, to read, to teach, and to work taught him how to earn respect first and from there, how to leverage it for justice," Grimmette says.
In transforming his research into a living history performance, Grimmette expresses the need to capture Douglass' storytelling ability.  "The most important part of portraying Douglass is his ability to spin a yarn. He wrote in stories and was, by all accounts, a superb storyteller," he says. "Perhaps this is why he got on so well with Abe Lincoln."
When deciding on the content of the performances, Grimmette's biggest challenge is deciding what information to exclude. "One wants to tell every delicious morsel of the many tales spun by, for, and about Frederick Douglass," he says.
---
Sarah Weissman is the Communications Specialist for Maryland Humanities. She previously served as the Communications and Fundraising Assistant at Woodbourne Center and the Marketing and Communications Director at Glass Mind Theatre, an all-volunteer company. Weissman has a B.A. in English from Goucher College, with a Concentration in Writing, as well as a Minor in Communication and Media Studies. Disclaimer: The views and opinions expressed on our blog do not necessarily reflect the views or position of Maryland Humanities or our funders.