May 14, 2019
Suzy Wolffe, Manager of Tour Experiences at Baltimore Museum of Art has organized tours of the Monsters & Myths: Surrealism and War in the 1930s and 1940 exhibit with veteran Hans Palmer. Anne Brown, Senior Director of Communications at the museum, interviewed Wolffe about her experience and the history behind the exhibition.
---
On Saturday, May 18, The Baltimore Museum of Art is offering the last of three special tours of Monsters & Myths: Surrealism and War in the 1930s and 1940s with U.S. Marine Corps veteran Hans Palmer. This innovative program connects the artists' experiences of war during the previous century with a contemporary perspective. I asked BMA Manager of Tour Experiences Suzy Wolffe to give us some background about the exhibition, explain the genesis of the program, and tell us how visitors have responded to the tours. — Anne Brown
Anne Brown: First, tell us what Monsters & Myths is about.
Suzy Wolffe: Monsters & Myths presents 90 paintings, sculptures, artist's books, and films to show how artists responded to the monstrosities around them during the Spanish Civil War and World War II.  Artists like Pablo Picasso, Salvador Dalí, Joan Miró, André Masson, and others channeled their experiences of war, violence, and exile into their art, creating some of the most compelling works of the Surrealist movement.
Brown: What prompted you to organize tours with a veteran?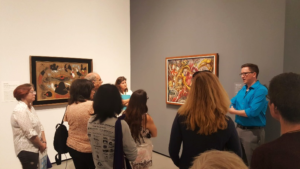 Wolff: Many of the artists in the exhibition endured horrific experiences as soldiers. They witnessed fascist riots and destruction on an unprecedented scale. Some were diagnosed with "shell shock," which we now call post-traumatic stress disorder or PTSD. As we know, these circumstances are certainly not unique to the 1930s and 1940s. I wanted to find a way to connect that experience and the artworks made at the time with a current perspective.
Brown: How did you connect with Hans Palmer?
Wolffe: Hans and I were introduced by the Director of Veterans Initiatives at the Institute for Integrative Health in Baltimore. Hans served two tours in Il Ramadi, Iraq, as a soldier in the 2nd Battalion 5th Marines. I was struck by his willingness to talk about his experiences both in the infantry battalion and in his return to civilian life. Our program is unlike a typical tour of an exhibition. Hans selected works of art that he connected with most strongly, and it is these five artworks—Edwin Blumenfeld's The Dictator (c. 1937), Joan Miró's Portrait No. 1 (1938), André Masson's The Metaphysical Wall (1940) and In the Tower of Sleep (1938), and Max Ernst's Europe After the Rain II (1940-42)—that form the center of the experience. He responds from the perspective of a veteran, and I provide information on the artists' backgrounds.
Brown: What have visitor responses been?
Wolffe: Each visitor brings his or her own experience to the tour. War can be a difficult topic, so our gallery conversations with participants have sometimes been intense. But the beauty of art is that you can see it through so many different lenses. We've had veterans, artists, and general visitors tell us that they really appreciate a veteran's perspective on the artwork as it is one that is not heard very often.
Hans and Suzy will lead another tour on Saturday, May 18, at 5 p.m.  Monsters & Myths: Surrealism and War in the 1930s and 1940s is on view through May 26, 2019. Tickets for both the exhibition and tour are available at artbma.org
---
This exhibition and related programs have been made possible in part by a major grant from the National Endowment for the Humanities and by generous funding from Transamerica, The Alvin and Fanny B. Thalheimer Exhibition Endowment Fund, and The Gladys Krieble Delmas Foundation. Disclaimer: The views and opinions expressed on our blog do not necessarily reflect the views or position of Maryland Humanities or our funders.