May 28, 2019
Alma Jordan is the Chair of the History and Research Committee of the Unified Committee for Afro-American Contributions (UCAC) in St. Mary's County. She writes about the Drayden African American Schoolhouse. The segregated schoolhouse, in use through the 1940s, has been preserved and recently renovated as a historic site. Jordan's grandfather was the first teacher when the school opened. Special thanks to Andrew Ponti, Marketing Manager at St. Mary's County Museum Division, for his assistance in coordinating this post.
****
Built in 1891, the one-room Drayden African American Schoolhouse still occupies its original site and has not been significantly altered from its original state. The schoolhouse functioned for hundreds of students until 1944. The structure marks the era of segregated schools in St. Mary's County and represents the stories of the students who spent their school-age lives attending classes there.
At the Unified Committee for Afro-American Contributions (UCAC) in St. Mary's County, we have been very excited about the Drayden School Project for a long time. Our organization has been on board with the project prior to the renovation of the building, which was completed in February 2018. We have worked closely with both Don Cropp (a local contractor who specializes in historic site restorations and who restored the Drayden School) and the St. Mary's County Museum Division who oversees the site and its interpretation.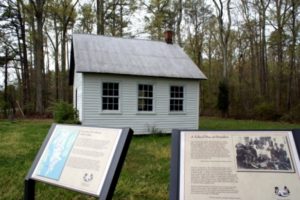 One of the main reasons we're so excited is that our committee had the amazing opportunity to interview most of the surviving students regarding their experiences while in school at Drayden. Their stories, along with previous interviews, were noted in our book, In Relentless Pursuit of an Education: African American Stories from a Century of Segregation. We were able to share what a school day was like for "colored children"—first through seventh graders—who all shared one classroom. We also love being able to share these stories with visitors who come to Drayden during our monthly open houses and see the schoolhouse.
These stories reflected on what a typical school day was like at Drayden. It included tales of getting water in buckets from a local spring for the classroom and even cutting wood for the stove to keep the room warm. Older students were trained to help younger students with their lessons, sometimes from hand-me-down books from the local white schools, many with torn or missing pages. Recess was usually in the small yard surrounding the school, where the students played with a homemade ball, a swing (a simple rope hanging from a tree), and on their own handmade seesaw. Like all students of the period, many walked several miles to school with their siblings and neighbors, through all types of weather, including driving rain, frigid snowstorms, and sweltering heat.
The most exciting thing for me was learning that my grandfather, William Bunton Thompson, was the first teacher when the school opened in 1890. My grandmother, Ella Hawkins Thompson, and her sister, my great aunt Jane Hawkins Cutchember, were also teachers at Drayden School. Being able to learn all these interesting things about my own family, along with standing in the place that they actually taught, makes it all the more poignant for me and many other descendants of students and teachers alike. We hope we can continue to pass on these stories to future generations and preserve important sites like these.
This shows only a mere fraction of what there is to learn at Drayden and there are countless other accounts like these.
---
The Drayden African American Schoolhouse is located at 18287 Cherryfield Road, Drayden, MD, 20630 and is open to the public during a monthly Open House the first Saturday of the Month, through October, and other select days. Interpretive panels offer self-guided tours during times the site is closed. Group tours are available by advance arrangement by calling (301) 994-1471. For more information regarding the Drayden African American Schoolhouse, open hours, and more, please visit Facebook.com/DraydenSchool or call (301) 994-1471. Disclaimer: The views and opinions expressed on our blog do not necessarily reflect the views or position of Maryland Humanities or our funders.