June 27, 2019
For the 25th anniversary of our Chautauqua living history series, we're diving into how water has shaped our history and celebrating those who have navigated ice, waves, and the depths below. Communications Specialist Sarah Weissman spoke with Keith Henley, the actor-scholar who portrays Matthew Henson. Henley kicks off  Chautauqua 2019: Making Waves with his first performance July 5. The series runs through July 20.
---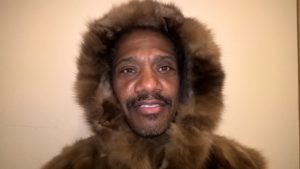 Performer Keith Henley sees Arctic explorer Matthew Henson's story as only one in a multitude of overlooked accomplishments by black men.  "I fell in love with the story," he said. "My passion is actually to tell the stories of African American men correctly. And I've taken it upon myself to tell the stories of African American men correctly and put a different light on how the country perceives black men and their accomplishments."
Henson's story was fortunately not erased from history, but explorer Robert Peary – whom Henson accompanied to the North Pole – did erase it for a significant portion of Henson's life. "Matthew Henson spends half his life with Robert Peary, makes it all the way to the North Pole just to be disregarded or ignored," Henley says. "Then he spends the next 20 years of his life reclaiming what should have been his." According to Henley, Peary treated Henson relatively well until Peary's ego was bruised when he learned that Henson reached the North Pole half an hour before him.  Henley brings up an evening after Peary and Henson had made it to their destination.
"That night when they went to sleep, Robert packed his things and left Matthew," Henley says. "Matthew wakes up and he's thinking that Robert left because it's cold and because he thought that his foot was bothering him. He just never thought that Robert would leave him and not wake him." When Henson requested that Peary write the introduction to his book, A Negro at the North Pole, Peary denounced Henson's role in the mission entirely. In New York, when Peary's group was being honored, Peary read the names of all of the journey members except for Henson. "That's when Matthew knew he was dissed and it broke his heart," Henley says. Apparently, Henson had enough faith in Perry to believe that he would acknowledge Henson's work before his death: he did not, but Henson did outlive Peary by twenty years.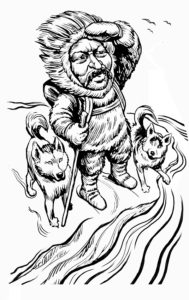 Unexpectedly, Henson received an award named after the man who denied his accomplishments: he was awarded the Peary Polar Expedition Medal, authorized by Congress, in 1944, almost 25 years after Peary's death. Henson was again honored at the White House by President Truman and again by President Dwight Eisenhower. Henson "saw the accolades he should have gotten in 1909, he gets them right before he dies in the Fifties," Henley says. "The black community embraced him and kept his story alive."
Henley speaks of how, while Henson received recognition in his lifetime, many still aren't aware of him or his achievements. "Most people don't find out about these icons until they're in their 30s or 40s, or sometimes in their 60s and 70s. And that's only because they're not taught," he says. "When you don't talk about the history of the country and all those who participated in the development of the country then we miss out," he says. "With Matthew Henson, a lot of the people don't know he was the first black man who traveled to the North Pole. This is our history and it's a travesty that we don't embrace it. It should always be in front of us."
Henley's tone switches as he expresses gratitude for the opportunity to share Henson's story. "Thank god for Chautauqua, because with all the various themes they have, they open the door for us to discuss and see the stories of those icons [who] normally wouldn't be discussed. Chautauqua is that venue that promotes the knowledge of the unknown, and I'm grateful for that."
 Maryland Humanities is grateful, too, to our inspired actor-scholars and the dedicated Chautauqua audiences who return year after year.
---
Disclaimer: The views and opinions expressed on our blog do not necessarily reflect the views or position of Maryland Humanities or our funders.