July 5, 2019
For the 25th anniversary of our Chautauqua living history series, we're diving into how water has shaped our history and celebrating those who have navigated ice, waves, and the depths below. Communications Specialist Sarah Weissman spoke with Doug Mishler, the actor-scholar who portrays Jacques Cousteau. Mishler performed for the very first Chautauqua in Maryland in 1995 as P.T. Barnum. Chautauqua 2019: Making Waves begins tonight and runs through July 20.

---
Actor-scholar Doug Mishler has a personal connection to Jacques Cousteau. "I was a scuba diver and scuba instructor and in a way, I got into it because of his [Cousteau's television] series in the 1960s," Mishler says. He premieres his presentation as Cousteau on July 6 for Maryland Humanities' Chautauqua living history series. When requested to create a presentation of the character for Chautauqua 2019 by Maryland Humanities staff, Mishler "couldn't refuse. I just had to do it," he says. "He was a childhood hero."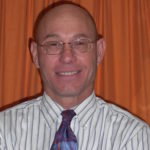 While Mishler first knew about Cousteau from The Undersea World of Jacques Cousteau, which aired from 1966 to 1976, he now finds Cousteau's work prior to the show most interesting. As an adult, he admires Cousteau's "dedication to learning how to make humans work within this very hostile underwater environment. He figures out how to get people underwater, how they breathe, what they need to do to not kill themselves, adjusting it and how to make this possible."
Mishler speaks of how Cousteau developed one of the first underwater habitats for humans, the Continental Shelf Station (often called the CONSHELF)[1]. Cousteau made three variations of the CONSHELF: Mishler says the CONSHELF III allowed Cousteau and his crew to say at below 300 feet[2] for almost three months.
Mishler is most inspired by Cousteau's "drive, his passion to expel this problem that he faced" and his willingness to explore the unknown. "Slowly they [Cousteau and his crew] had to take each one [obstacle] and say 'how do you handle this?' And they'd often fail but go on to the next obstacle," he says. "This drive to focus, to overcome, to keep moving forward despite obstacles." Mishler is awed by "the tenacity of it all."
Mishler mentions Cousteau's early years. As a teenager, had difficulty relating to others.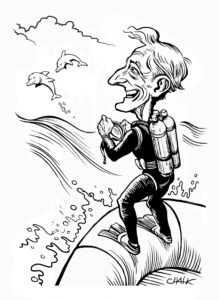 "He was completely shut out, but then he got a camera and that completely changed how he related to people. One of his passions was to get a camera underwater, and so he's the first man to get a hand-held camera and film underwater," Mishler says. Cousteau related to people through filming underwater and showing them "this new world." He discovered his passion for water through a punishment. "He was forced to jump into a pool with dirty, filthy water and clean it out, and he found that being in water was much better than dealing with people."
Cousteau has a lesser-known history as a member of the French Resistance during World War II. "He survived the Nazi occupation of France by scuba diving," Mishler says. "His brother was a Nazi sympathizer, and his first film was made because his brother passed him off as a Nazi biologist."
While honoring all of Cousteau's contributions, Mishler cautions against ignoring his flaws. "It's ahistorical to say there's a perfect human being," he says. The life of a historical figure like Cousteau is in danger of becoming "this illusion that, though he is driven and makes incredible advancements for humanity, he's [not] also human and makes mistakes." Presenting a historical figure's faults and flaws can not only make them "more accessible" but can also serve as a teaching tool. They "can be lessons in how to do something or how not to do something," he says. "That's what I like about the Chautauqua format: you show not only their heroics but their flaws and failures. We examine these characters and hopefully look at ourselves as we examine them, and see there's good and bad in everyone."
---
Disclaimer: The views and opinions expressed on our blog do not necessarily reflect the views or position of Maryland Humanities or our funders.