October 23, 2019
Stevenson University School of Design hosts Times of Perception, a multimedia exhibition that reflects on the experience of Japanese Internment, the Muslim Ban and the treatment of Muslims after the War on Terror. Curator Liz Faust discusses talks about the exhibition. 
---
The aphorism "Learn from the past or one is bound to repeat it" rings true to me while looking at the art on the walls at Stevenson for the Times of Perception exhibition. Artists and the works in the show illustrate their belief that even if the time itself has moved forward, our collective perceptions and treatment of those whom we view as different as us, as other, has not changed in essence.
A multi-media exhibition that is two years in the making, Times of Perception features eight artists who contemplate one of two historical events. Japanese and Japanese-American artists Nancy Chikaraishi, Kei Ito, and Wendy Marayuma reflect upon on the American government's internment of Japanese and Japanese-Americans during World War II. Muslim artists Saks Afridi, Sobia Ahmad, Qinza Najm, Mary Tuma, and Azzah Sultan working through and commentating the Travel Ban, or more commonly known as the Muslim Ban, and the discrimination that many Muslims face in America post-9/11 and the War on Terror.
These two identities are not often linked for they have a smaller amount of contact with each than other groups. However, in the context of American-history the similarities are striking.
Since the beginning conception of Times of Perception, the topic has only become more relevant with time and often extends to even more groups and identities. All eight artists remind us that the term "Americans" oftentimes does not include all Americans.
It was important to me that this exhibition would be an art exhibition. What the artists are calling for is a call of empathy, compassion, and understanding of our fellow humans. Art can help us achieve this. Another important focus for me, was the connection between the past and present circumstances.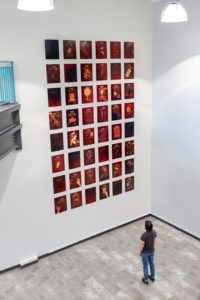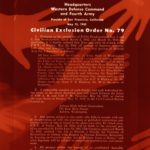 Kei Ito is a Japanese artist and a third generational victim of the atomic bombing of Hiroshima. His piece, Only What We Can Carry, is a series of prints of Japanese Internment Camp (Civilian Exclusion Orders) posters exposed with various everyday objects, which represent what he would bring with him if he had one day to gather his belongings.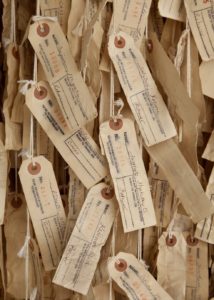 Chikaraishi and Marayuma's parents were placed in internment camps. Chikaraishi's piece contemplates and depicts daily scenes and sights from the internment camps. Marayuma's The Tag Project consists of 120,000 replicas of the paper identification tags that internees were forced to wear when they were being relocated. Another piece, You're a Sap, Mr. Jap, is covered in tarpaper, used in the construction of the camp barracks. A video monitor plays three WWII-era cartoons that depict stereotypes of Japanese people – similar to the ones that Marayuma remembers watching.
Mary Tuma's work hangs a ghostly reminder of the missing bodies that would normally burkas, which we see in her piece. Homes for the disembodied speaks of the violence lobbied against Muslim and Muslim-American women and the many slenced voices.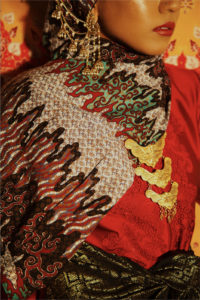 Azzah Sultan's two fiber-based artworks, Anak Mami and Home Sweet Home reflect upon the ideas of discrimination and identity. She explores her cultural identity in Anak Mami with photos of herself. The word Mamak is a term referring to the Indian Muslims who migrated from mostly South India to Malaysia, the first port of entry being Penang mostly around the twelfth to the eighteenth century. In Home Sweet Home, donated Hijabs of American-Muslim women that have been sewn together to form an American flag.
Qinza Najm is a Pakistani-Amerian artist and psychologist. Her interdisciplinary works explore the gendered violence as well as the social trauma of Muslim-American women. Najim created #BanNoMore in direct reaction to the Muslim Travel Ban. In other work of Najim's in the show, she has painted over these two central rugs in order to obscure our view to convey a mindset that prevents us from seeing the beauty of the weaving beneath.
In We the People, Saks Afridi's piece shows the phrase in calligraphy. In the negative space around the phrase, he places the calligraphy of the constitution translated into Urdu. "It serves as a reminder that it is immigrants who make up the 'We' in America. Most immigrants live in the negative spaces of society and yet it is they who make the fabric of this great nation," he says. In Somewhere in America, an enlarged image of a book, he also wrote Arabic script and an English-to-Arabic transliteration of excerpts from Somewhere in America by Jay Z and refers to hip-hop as a "new gospel," while mentioning the "new ideology" of white appropriation of hip hop.
Sobia Ahmad fled with her family from Pakistan to the United States when she was fourteen. Her piece Small Identities features ID photos transferred onto Islamic-shaped 'Arabesque' tiles, a popular interior decoration motif in American homes. Shortly after the Travel Ban, Ahmad began collecting passport-sized ID photos of her family, relatives, friends, and colleagues that are Muslim immigrants in the U.S. Soon, Ahmad learned that people were afraid to submit their photos, citing intense fear of violence and hatred. For every person who told her they were too afraid to submit their ID photo, she added a blank tile to the installation to represent them.
---
Times of Perception runs at Stevenson University's Manning Academic Center on the Owings Mills Campus (11200 Gundry Lane) through October 26 and in Stevenson's School of Design Gallery (11100 Ted Herget Way) through January 4.
Disclaimer: The views and opinions expressed on our blog do not necessarily reflect the views or position of Maryland Humanities or our funders.