January 11, 2021
It is time for us here at the Maryland Center for the Book at Maryland Humanities to reveal the Top 10 books for One Maryland One Book 2021! The theme for this year is "hope" and we have ten strong contenders.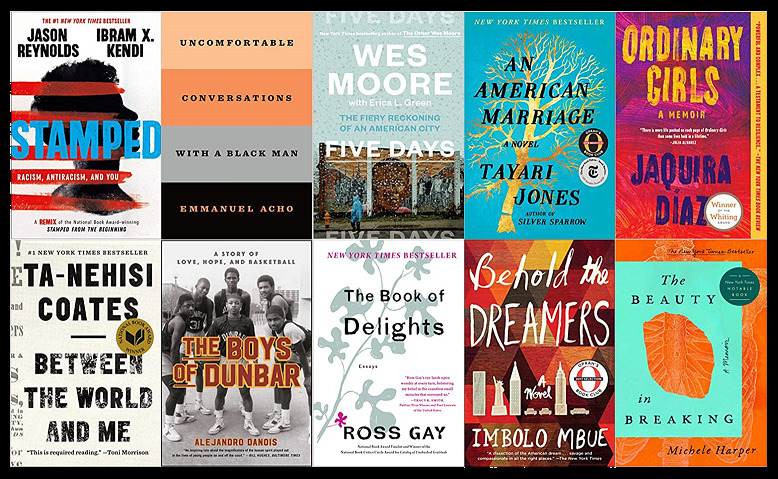 Two of the nonfiction titles are accounts of events that happened in Baltimore. The first, Wes Moore's Five Days: The Fiery Reckoning of an American City, details the days of unrest in the city of Baltimore after the death of Freddie Gray. Alejandro Danois's The Boys of Dunbar: The Story of the Greatest High School Basketball Team is also directly related to Baltimore. It chronicles the lives of the boys who came to be on Baltimore's Dunbar High School's basketball team in 1981–1982 during the crack epidemic. The team's devoted coach, Coach Bob Wade, made the boys see a future for themselves, and four of them went on to play in the NBA.
Stamped: Racism, Antiracism, and You by Jason Reynolds and Ibram X. Kendi, Uncomfortable Conversations with a Black Man by Emmanuel Acho, and Between the World and Me by Ta-Nehisi Coates (who hails from Baltimore) are all books that ask the reader to examine the history of institutional racism in the United States, and how it affects our day-to-day lives. In these titles, there is hope for what the future can be for this country when people have difficult conversations, learn more history, and work together to build a more equitable world.
Also in our Top 10 are two outstanding memoirs. Ordinary Girls by Jaquira Díaz tells the author's story of growing up in a turbulent environment, overcoming familial strife, colonialism, and sexual assault, and finding hope in the version that of herself that she always imagined. The Beauty in Breaking by Michele Harper, MD, is the account of a Black female emergency room physician. In addition to the book being her own story of self-healing, Harper comes to see how each of us is broken and uses accounts of her patients to show us how we can mend what is broken and heal ourselves.
One genre that we have not seen before as a One Maryland One Book selection is a collection of essays, and that's what The Book of Delights by Ross Gay is! Gay reflects on the joys of life, such as nature, and tougher issues, such as what it is to be a Black man in America. The book is about the connection we have with the world and each other.
Finally, the last two books in our Top 10 are novels that have both been Oprah's Book Club picks. An American Marriage by Tayari Jones is about a couple that is torn apart when the husband is sentenced to prison for a crime they know he did not commit. Years later, when his conviction is overturned, he's looking to return to his married life only to realize that his wife may have moved on. It is a look into how people can look for hope in the darkest of times. Behold the Dreamers by Imbolo Mbue is about two families, a Cameroonian couple living in Harlem, and a senior executive at Lehman Brothers and his wife. The financial crisis of 2008 upends all of their lives. The Cameroonian couple, the Jongas, are having their own issues, but must work together to keep their jobs, and their search for hope for the future.
Only one of these titles will be the 2021 One Maryland One Book pick! We hope you consider these titles as you're looking to add to your to-be-read lists this year. We will announce our pick in March.
---
Disclaimer: The views and opinions expressed on our blog do not necessarily reflect the views or position of Maryland Humanities or our funders.