February 24, 2021
Bold Beautiful Brilliant Girls Youth Empowerment Group (BBBYEG) is a recipient of one of our Voices and Votes Electoral Engagement Project Grants. As part of BBYEG's mentorship program, youth have been learning about the processes used to suppress the votes of Black people, the Electoral College, and more. The mentees will collaborate and create a webpage on the bbbyeg.org site for younger audiences to visit and explore. This page will be used to educate and empower the mentees' peers to learn about and reflect on the current state of our democracy. We interviewed twelve-year-old Brooke, one of the BBYEG mentees, about her experience.
---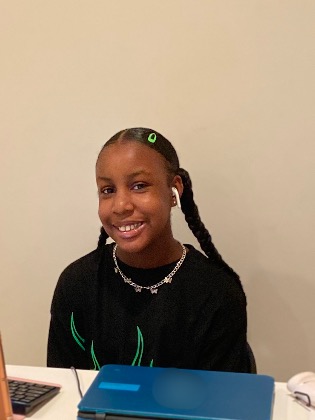 Q: Can you tell me your name and age?
A: Brooke Lancaster and I'm 12 years old.
Q: How did you get involved in BBBYEG?
A: Well my mom introduced me to it. She's friends with the leader.
Q: Can you describe the mentorship program?
A: Honestly, I love the program. It is a great opportunity to meet new people while gaining new information about certain things. It also helps encourage.
Q: Could you elaborate?
A:Well I have a mentor and she encourages me to try different things and express my feelings. The project was to highlight and educate people onto the website so they could gain more information.
Q: What kind of information?
A: The woman's suffrage, the 19th and 15th amendment (which granted white women and Black men the rights to vote respectively), the electoral college, what the Democratic and Republican party are.
Q: What have you learned from the voting history project?
A: Well my topic was the women's suffrage and the fifteenth and nineteenth amendment. The fight wasn't easy. I learned that some of the leaders faced some discrimination like throughout the groups so that wasn't easy as well. The group went to Congress a bunch of time, the House shut it down so they couldn't get the amendment passed. But they kept trying over and over again because they weren't going to give up. This was for the fifteenth and nineteenth amendment.
Q: What is your favorite part of the project?
A: My favorite part of the project was learning new information. Because I learned about this in school but not to this extent. And I think it's nice to have projects that inform us so we can learn about what we didn't learn about in school.
In school, I learned a brief part of it. I learned about the two main leaders, Elizabeth Stanton and Susan B. Anthony, and I learned they fought but I didn't learn it in depth. I didn't know what the fifteenth and nineteenth amendment were. I didn't really know the obstacles that they faced.
Q: What will you take with you in the future?
I think I will take the perseverance aspect from this project and I will apply it to my life. I don't think I would have been exposed to this information. I think I will take an interest in writing.
---
Voices and Votes Electoral Engagement Project was funded by the 'Why It Matters: Civic and Electoral Participation' initiative, administered by the Federation of State Humanities Councils and funded by the Andrew W. Mellon Foundation. Learn more about BBBYEG here.  Disclaimer: The views and opinions expressed on our blog do not necessarily reflect the views or position of Maryland Humanities or our funders.