January 4, 2022
In June of 2020, Maryland Humanities posted a statement titled, "Our Nation is in Crisis." This statement came about at a time when many organizations were posting similar statements, declaring themselves ready to take the necessary steps towards dismantling white supremacy and righting the institutionalized wrongs of this country.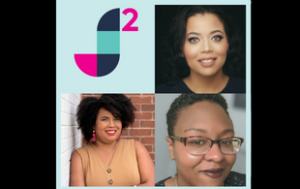 Since issuing the statement, we at Maryland Humanities have been working hard to fulfill our promise "to do better and to do so in a just and equitable fashion." For the past year or so, our staff and board have worked to ensure that they are moving towards a shared understanding of racial equity terms, principles, and the necessary work ahead. Some of our work so far has included staff-led racial equity conversations and staff and board training. We have hired Johnson Squared as our racial equity consultants who have led our internal training. Johnson Squared has also guided us in creating learning curriculums and completing racial equity assessments of our staff and board.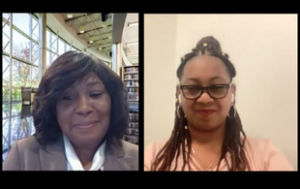 In addition, we held three Beyond the Statement events. Each event featured a humanities leader from Maryland discussing their work in operationalizing racial equity within their organization. Alicia McLeod—our Board Member and Executive Director of Challenging Racism—facilitated conversations with Tonya Aikens of Howard County Library System, Omar Eaton-Martínez of Prince George's County Department of Parks and Recreation, and Dr. Tuajuanda Jordan of St. Mary's College of Maryland. These events were open to the public for the first half, and are available on our YouTube channel. In the second portion, Maryland Humanities staff and board met with the speaker to discuss our own application of what we learned.
As the staff and board at Maryland Humanities increased our understanding of racial equity concepts, we worked hard to apply that understanding to the work that we do–both internally and externally. Our Racial Equity Working Group—which consists of board and staff members—helps lead the organization in learning, implementing, and practicing racial equity. The group was an important resource in our newest Strategic Planning process and the switch to General Operating Support for our grant program.
Each staff member is incorporating a racial equity lens to their work. We all approach this differently, but we've worked hard to reach a shared understanding of racial equity principles as much as possible. We've made other specific changes that reflect the application of a racial equity lens like incorporating interrupting bias knowledge into our hiring process, developing an equity framework for Maryland History Day, updating the employee handbook to be more equitable, working towards improved pay transparency and equity, including a racial equity question in staff's annual assessment, and incorporating racial equity into the program review process.
To make this work possible, Maryland Humanities wrote support for Racial Equity work into our budget. That has allowed us to pay our consultants, to pay the speakers for Beyond the Statements, to support staff in additional professional development, and more. Racial Equity work can not exist without the support of the board and staff, but also without funding. We have committed financially to the work and plan to do so for the foreseeable future.
As the leader of Maryland Humanities, I've been proud of the work we've done so far. I know we have done better–and I believe we've done so in a just and equitable fashion. This is only the beginning of a long journey towards building a more equitable organization and I look forward to what the future holds.