January 7, 2022
We think it quite fitting that we announce our top titles for One Maryland One Book 2022 in the first month of the year, as this year's theme is "New Beginnings." We have ten powerful contenders this year.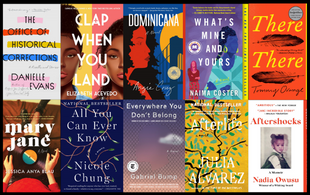 Our two compelling memoirs on our top ten list this year are about finding your place in the world when you grow up in a different background than you were raised in. Nadia Owusu, author of the memoir Aftershocks, was abandoned by her mother at age two and lived a nomadic upbringing with her father, until he died when she was thirteen. Owusu felt anchorless as she found herself coming of age with a stepmother in the United States, with no place feeling like home. The other memoir, Nicole Chung's All You Can Ever Know, chronicles how the author grew up as a transracial adoptee and how she formed her identity as a Korean American, faced prejudices that her white adoptive family couldn't protect her from, and how those experiences affected her development as a writer. Chung becomes determined to find the Korean parents that gave her up as a baby. She attended Johns Hopkins University in Baltimore.
Danielle Evans' The Office of Historical Corrections: A Novella and Stories has a unique format. The novella and stories that make up the book center around characters that are confronting issues of race, friendship, culture, history, and more. Whether it is a white girl who faces backlash after her photo wearing a confederate flag bikini goes viral, or a photojournalist who confronts her own issues as she attends an old friend's wedding, Evans does a brilliant job of providing smart voices to her characters and exploring complex human relationships. Evans lives in Baltimore, and teaches at Johns Hopkins University.
The books from the two male authors on our list fit beautifully with the theme of "New Beginnings." There There by Tommy Orange, a member of the Cheyenne and Arapaho Tribes, features a dozen Native American characters as they make their way to the Big Oakland Powwow: some attend to honor those who have died, some are performing for the first time, and they not realize how they are connected yet. The novel tells the story of the modern, urban Native American experience and some have dubbed it an instant classic. In Everywhere You Don't Belong Gabriel Bump introduces audiences to the protagonist Claude McKay Love, who was raised on the south side of Chicago by a grandmother who is trying to mold him into an actor of change in his community. However, Claude does not want race to define his life, and we see Claude as he grows up and makes the decision to move away for college and start a new life outside of Chicago. But he finds in this hypnotizing and irresistibly written coming-of-age story, that there may not be any place he belongs
The one young adult title that made our list is the novel-in-verse Clap When You Land by National Book Award-winning author Elizabeth Acevedo. Land features two girls, Camino and Yahaira, one in the Dominican Republic and the other in New York City. They share the same father, but their lives are upended when their father's death in a plane crash leads them to learn the other one exists. Camino and Yahaira's lives will forever be different without their father, but perhaps they can find connection with one another.
The remaining four books on our top ten list are written by women who do a brilliant job of capturing past and present immigrant experiences, with America as the destination. They show how "New Beginnings" are possible for their characters. In Angie Cruz's Dominicana, which was shortlisted for the 2020 Women's Prize for Fiction, Ana marries a man who is twice her age so she can provide her family the option of immigrating to America. At first isolated in her new Washington Heights home, she makes drastic plans to escape, then she meets her brother-in-law, who introduces her to what life could be living in New York City. Once her husband returns, Ana has to make the decision of whether to follow her heart or do what is best for her family. Naima Coster's New York Times Best-Selling novel, What's Mine and Yours, features the story of one North Carolina county where an initiative is set in motion to bring Black students from the East side to the predominantly white schools on the West Side. One mother is determined to protect her son as he finds his way as an anxious, sensitive young Black man, and another mother refuses to see her half-Latina daughters as anything other than white. These two families will connect in ways over the coming decades that neither is prepared for. In Julia Alvarez's most recent novel Afterlife, readers will meet Antonia Vega, an immigrant and writer, who has just retired from teaching English. Her life tumbles into chaos when her husband unexpectedly dies, her sister disappears, and a pregnant, undocumented teenager appears on her doorstep. Antonia has always counted on words, but now the world is asking more of her than words. Jessica Anya Blau's novel, Mary Jane, is set in 1970's Baltimore. The fourteen-year-old title character gets a job nannying for a doctor who is also hosting a rock star and his movie actress wife for the summer. Mary Jane's traditional upbringing is exposed to new and liberal ideas throughout the summer and come September she will know more of what she wants from the world.
We hope you have enjoyed learning more about our top ten titles. Remember, only one will be the 2022 One Maryland One Book selection, but that doesn't mean you can't add all of these memorable titles to your to-read lists. Our selection will be announced in March.