February 22, 2022
Saima Sitwat, author of American Muslim: An Immigrant's Journey, sits on our Board of Directors. She has curated a panel called "Becoming American" for CityLit Festival: Maryland Center for the Book at Maryland Humanities serves as one of the festival's partners this year. The panel consists of Maryland women who've immigrated to America. We spoke to her about the event, her experience writing as an immigrant, and more.
---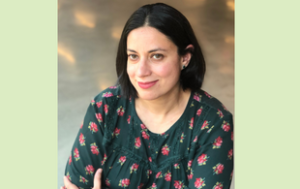 "The story of immigration, of being a minority and a woman in America, is not a singular story," says Saima Sitwat, who knows firsthand. Sitwat recalls immigrating to the United States from Pakistan in 2003,when she began to write about her own experience. The author of American Muslim: An Immigrant's Journey started to document stories of other immigrants then, too.

"It was a time of heightened Islamophobia in America, and people were afraid of being identified as Muslim or sharing the trauma that the American Muslim community went through after the September 11 attacks," Sitwat says. "I felt that Americans of all faiths and identities had to hear stories of Muslims next door—Muslims they know as colleagues, neighbors and community volunteers."

Prior to Baltimore, Sitwat lived in Pittsburgh where she wrote about immigrant and faith communities "to create an awareness of growing diversity in the region, but also as a way of discovering our shared humanity." She considers "Becoming American", her storytelling project, a continuation of that work. The primarily digital project, which Sitwat started in 2021, consists of conversations and panel discussions with immigrant women in Maryland.

"Asian-American hatred was on the rise across America. In addition to many violent crimes across the country, there was an assault on two Asian women in Baltimore." Sitwat and I discuss the recent murders of Christina Yuna Lee and Michelle Go— who were Korean American and Chinese American, respectively. The two New Yorkers died within a month of each other. "These recent assaults prove that Asian Americans continue to bear the brunt of hateful and misguided ideologies, which have been exacerbated by the pandemic," Sitwat says.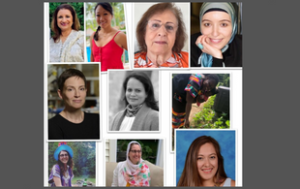 Sitwat continues "Becoming American" with a panel she has curated of the same name at the upcoming CityLit Festival, a free monthlong literature festival from CityLit Project in March. The festival's theme this year is "Breaking Free: Confronting Hard Truths," which Sitwat says "all writing should be about." She talks of how the theme specifically resonates with her experience as an immigrant. "Immigrants, in particular, have a tendency to normalize the trauma they have been through during the process of migration," she says, "but we all need to address and confront the history of systemic racism in America in order to continue our journeys, together."

Sitwat's panel includes authors Nadia Hashimi and Eman Quotah. In order to broaden the scope and vary the discussion, Sitwat "reached out to Lindsey Baker and Andrea Lewis at Maryland Humanities for their advice on potential panelists," which led her to Maryland State Delegate Joseline Peña-Melnyk and event planner Mariam Thakkar. "Another consideration was to select participants who can share their stories honestly, with all the joy, sorrow and rawness of it."

"Platforms like CityLit Festival provide an opportunity for readers and writers to come together and spark conversations. It is always fun for a reader to meet their favorite writer, but it is a valuable experience for a writer to be connected with readers," Sitwat says. "Writing can be an isolating experience and it is important for writers to be knowledgeable about conversations that are taking place in neighborhoods." Discussing isolation naturally brings the coronavirus to mind, and the adjective takes on a new meaning two years in. "CityLit Festival puts the readers and writers in the same room and that is an exciting prospect for so many of us, especially at this time in history, when we have learned to value company and camaraderie."

Sitwat mentions what else the coronavirus pandemic intensified and highlighted. "The pandemic exposed inherent inequities that existed in America. As our country unraveled under the pressure of a raging healthcare crisis, both CityLit and Maryland Humanities were able to provide space for communities to come together and engage in dialogue," she says. "I personally appreciate efforts on part of both these organizations in amplifying BIPOC voices."

The pandemic has only heightened Sitwat's commitment to sharing stories. "If [the] pandemic has taught me one thing, it is to be present in the here and now," she says. "I have meant to do a project like 'Becoming American' for the past few years but something or the other took precedence. The uncertainty of life that we experienced during [the] pandemic made me realize the urgency to highlight and share all the good stories out there!"
---
CityLit Festival runs the entire month of March. Sitwat's panel takes place on Saturday, March 12 at Enoch Pratt Free Library's Central Branch, 10:00–11:30 a.m.; it will also be available virtually. The keynote speech by The 1619 Project's Nikole Hannah-Jones—which Maryland Humanities is co-sponsoring—will take place at the same  location at 2:00 p.m.; it will be available virtually, as well.