February 3, 2022
This year's One Maryland One Book theme is "New Beginnings," and we want to share the three titles that our Selection Committee narrowed it down to! All of our finalists this year are written by women of color. Only one of the following books will be our pick: Clap When You Land by Elizabeth Acevedo, What's Mine and Yours by Naima Coster, and Aftershocks: A Memoir by Nadia Owusu.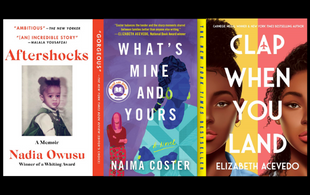 The Young Adult title in our Top 3 is Clap When You Land by Elizabeth Acevedo. If selected, it would be the first novel told in verse chosen for the One Maryland One Book program. Two sisters, Camino and Yahaira, find each other after losing their father in a plane crash. 
Camino lives in the Dominican Republic and only gets to see her father during the summer. Yahaira lives in New York and wants to accompany her father every year when he goes on his business trip to the Dominican Republic. Camino's heard so much about the United States and New York from her father and wants to see it for herself. Yahaira is Dominican but has never been to the Dominican Republic and struggles with her identity. The novel dives deep into issues of immigration, socio-economic and cultural differences, grief, and painful secrets. It is being developed into a television series by Emmy winner Bruna Papandrea. Acevedo will serve as an executive producer on the series and write its pilot episode.  
Acevedo was inspired by the 2001 crash of American Airlines Flight 587, which was bound for the Dominican Republic from New York. The plane crashed in Queens and killed everyone on board. Acevedo dedicated the novel to those who lost their lives on that flight, which received less attention than it otherwise might have because of its proximity in date to September 11, 2001. However, Acevedo has said that the crash rocked her community and that everyone knew someone who was on the flight.
Naima Coster's novel, What's Mine and Yours, is a family saga that addresses many aspects of race and identity. In a North Carolina county, an initiative is set in motion to bring Black students from the East Side to a predominantly white high school on the West Side. Jade is determined to protect her son as he finds his way as an anxious, sensitive young Black man. Another mother, Lacey May, refuses to see her half-Latina daughters as anything other than white.
Coster's inspiration for this novel came from listening to episodes of This American Life reported by Nikole Hannah-Jones. Hannah-Jones discussed a school integration that took place in Missouri; Michael Brown attended the same school. Coster was challenged by Hannah-Jones' work and asked herself questions like "How would parents interact with their children in the event of a school integration?" and "How would the integration affect the way people see themselves and what they're entitled to?" Already having in mind the characters of two mothers, Coster places their stories in the context of a school integration and shows us what happens.
The memoir on our list is Aftershocks. Author Nadia Owusu is of mixed heritage: her mother is Armenian and her father is from Ghana. Owusu was born in Tanzania and grew up all across the world, in England, Italy, and East Africa. She experienced a tumultuous childhood with her mother abandoning the family when Owusu was four. Nine years later, her father passed away, leaving her with her stepmother. She moved to New York City at age eighteen and stayed there, eventually becoming an urban planner.
Owusu uses the event of an earthquake to construct her story through all the grief she's endured.  The memoir is broken into segments all associated with earthquakes, including "First Earthquake," "Foreshocks," "Faults," "Aftershocks," etc. When she was seven, her mother showed up to visit Owusu in Italy the same day that there was a disastrous earthquake in Armenia.
Owusu writes of the many cultures she is a part of and her time in a boarding school in London. Moving to New York City proved challenging because of panic attacks, being in the World Trade Center subway station on September 11, and seeing the treatment of Black people in America. Mental health is also a strong theme throughout the book. She names certain sections "The Blue Chair" after a piece of furniture she picked up off the street, brought back to her apartment, and sat in for days during periods of melancholy.
Owusu's memoir is expansive with depictions of mental health, searching for a feeling of place in the world, and identity.  
Only one of these three titles will be this year's One Maryland One Book selection, although we think all three should be added to your "to be read" list! Whichever is selected, these are fascinating choices.
Subscribe to our e-newsletter or follow us on Facebook, Twitter, or Instagram to find out our final pick in March.