April 21, 2022
Devin Page of Northern Middle School and Michael Yuscavage of of Arundel High School were named this year's Maryland History Day Statewide Middle and High School Teacher of the Year, respectively. The teachers discuss the impact of Maryland History Day program on students.
---
When Michael Yuscavage first volunteered as the Maryland History Day Coordinator for Anne Arundel County in 2003, "I was clueless," he said. "I had no idea what the program entailed. I thought, at some point, we'd have a special day set aside to celebrate Maryland. We'd be putting up posters in the hallways and making announcements about the state bird."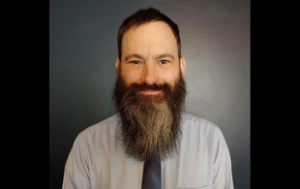 Nineteen years later, Yuscavage—who teaches at Arundel High School—is the recipient of this year's Maryland History Day High School Teacher of the Year Award. "For any teacher, it's really humbling to think that someone out there is recognizing our work," he says. "I'm really appreciative that I was selected."
Devin Page, a Social Studies teacher at Northern Middle School in Calvert County, also celebrates nineteen years with this year with Maryland Humanities' program. The recipient of the Maryland History Day Middle School Teacher of the Year Award has been involved with Maryland History Day for as long as he's been teaching social studies. "It's a tremendous honor," he says, on receiving the award. "Knowing how many teachers there are in the state of Maryland and how many phenomenal teachers at Calvert County Public Schools that I respect and highly admire…knowing the arc that Maryland History Day has taken over my own career, I am truly humbled."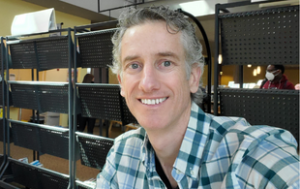 Annually, Maryland Humanities selects both a Middle and High School Teacher of the Year from across the state. The organization then nominates these honorees for the Patricia Behring Teacher of the Year Award, bestowed by National History Day. A committee of teachers and historians selects one middle school teacher and one high school teacher for the $10,000 national award. National History Day announces this year's winner during the virtual National History Day Awards Ceremony on June 18.
Maryland History Day, coordinated by Maryland Humanities since 1999, sparks critical thinking and helps develop skills in research and analysis, writing, and public speaking. Working solo or in small groups, students explore a historical topic of their choice on an annual theme. The program is open to public, private, parochial, and homeschool students in grades 6 through 12.
One of the reasons Page opted to have his students participate in Maryland History Day is because they could select any topic under the annual theme. "They can really immerse themselves in their topic and their research, because they'll be really intrinsically interested in the research that at the end yields a much more authentic topic," he says. "From understanding the theme, to selecting a topic, to building their background knowledge about the topic and time period, eventually digging into primary sources, then that student becomes the teacher. They become the expert, and I become the student. High quality projects are often so unique and aren't often in the curriculum, the teacher-student role is flipped. We learn as deeply as the student's project."

Yuscavage agrees that allowing students to select topics creates an experience where they're more driven to perform research. "They build a love for research. They love the competition. It's not the drudgery they're used to when asked to complete a project," he says. "I start each year by telling kids to write a list of ten topics they'd like to research," he says. "I tell them that it can be anything. Then, I whittle the list down to the topics that might (even loosely) fit the annual theme. We've had some unique topics go to the state competition."
Freedom with topic choices leads students to really connect with their project. "When students are fully immersed in a topic they chose themselves—especially if they chose a topic that's so unique I didn't even know about it —and it's personal to them (like a student's family heritage, or one of their family members was involved in the topic), the discussion with those students and interacting with those students is a delight."
According to Page, the freedom to choose the category or medium for their project allows each student "to use their unique gift." Students can create original documentary films, exhibits, performances, research papers, or websites.
Page says Maryland History Day offers the opportunity for "multiple means of representation." This is a concept in Universal Design for Learning (UDL) framework that acknowledges that people learn and take in information differently.  According to the UDL guidelines: "In short, there is not one means of representation that will be optimal for all learners; providing options for representation is essential."
"Some students are really oral, some are auditory, some are kinesthetic, some are musical," Page says. "With the many different ways that we learn, History Day taps into that."
In addition to his desire for accessibility, a student nomination of Page for Middle School Teacher of the Year also indicates his receptiveness to students' needs.
"In the month leading up to our History Fair [term sometimes used by Northern Middle] submission deadline, my mom had been diagnosed and was fighting metastatic breast cancer at John Hopkins," one student wrote. "It consumed the space in my head. Inside, all I could think was, 'How on Earth am I supposed to get this done? I don't want to quit now.' I owe any and all success I had in completing this project to my teacher, Mr. Page," the student continued.

"Any accommodation, support, or advice he could provide was given without second thought, and his selflessness is reflected in the projects of all those from Northern Middle. Aside from bettering me as a student historian, he was there to listen and make the emotional toll of my situation weigh a whole lot less," the student writes. "My mom was beyond thrilled to see a photo of my exhibit before she passed, and I know if she could be with me now, she would be my biggest cheerleader at the State competition. Thank you, Mr. Page, for helping me find the courage and passion necessary to complete my History Fair project."
A nomination from one of Yuscavage's students for Teacher of the Year also indicates reliability and care for his students. "I would like to nominate my teacher, Mr. Yuscavage from Arundel High School because his passion for this project while I was completing my project amazed me," the student wrote. "He was always there for us, and whenever we needed assistance or feedback, he gave us his best, and never let us down. He prioritized us, and valued us, which really meant a lot."
Yuscavage's enthusiasm for the subject matter is clear. "Teaching history is just telling cool stories—it's story time," he says. "Teaching history is like reading a cool movie script every day. Granted, some stories are more exciting than others and you have to research ways to spice things up."

Yuscavage elaborates on his effort to make class compelling to his students. "I've always subscribed to the idea that you need to put a lot of energy into figuring out how to make content interesting to kids, particularly those that walk into your room with a negative view of history class," he says. "I can't think of anything more depressing as a teacher than the sight of kids finding whatever I'm doing in class to be completely dull or monotonous. It's happened, sadly. When it does happen, I realize that I have to work a bit harder."
Yuscavage talks about how students' Maryland History Day experience improves their research abilities and habits, even after a project is complete. "Once you get through Maryland History Day, you're on a different level," he says. "You gain new standards for yourself. Also, most kids come back. I've had quite a few repeaters over the years."
Page adds that the program not only makes students better researchers in the long-term, but it also creates a hunger for that research. "The act of researching may spark a curiosity; they may become life-long learners," he says. "The skills are also crucial to develop in today's day and age. The type of research required for Maryland History Day projects is the highest quality of any program. You have to verify and corroborate your sources. Students want to rely on sources that are the most reliable based on their analysis of the veracity of each source." Skills from History Day are transferable; one of his Page's former students is currently pursuing computer engineering, after designing websites for his History Day project. Page heard of another student who went on to purse documentary filming after making a Maryland History Day documentary.
Page mentions how his students virtually met with him for an extra hour weekly, even in a pandemic. "I could not believe that middle schoolers would dedicate themselves to that [degree]," he says, and discusses his experience teaching virtually in a pandemic, in terms of project selection and creation.

"The interpersonal reactions that we're so used to were ripped from beneath our feet. When that happened, [students] chose topics that were connected to their own families. In their own research and my facilitation of that research, we were able to investigate their family backgrounds," he says. He and one student "were able to connect that social injustice in the 1800s with the social justice protests in the US," he says, referring to the 2020 protests. "The student has English heritage and studied the Swing Riots. They observed historical patterns to get an understanding for how humanity expresses their political grievances within the class and institutional structures in which they live."
Page has seen students who've completed the Maryland History Day elevate their ability to demonstrate complex thinking about historical topics in class discussions. He's also seen them demonstrate another quality.
"Stamina. I think that's a term that needs to gain traction in educational circles," he says. "You want students to have stamina to engage in the work. With so many different stimuli tugging on students nowadays, this particular project trains them to have stamina, in terms of work ethic or focus." He notes another difference in students who've participated in the program. "In class, you will occasionally have students who do not exhibit confidence in themselves or are initially overwhelmed [by] such a long-term research project. [By the end] of doing this research project, you will see, the way they interact with you, with the class, is completely different," he says.

"Their work habits are much more reliable for any activity that's required of them, because they don't question themselves as much as they used to having come out of the National History Day process."
---
The Maryland History Day State Contest will take place on April 30 at UMBC. The Awards Ceremony will be virtual and open to all: keep an eye on this page to learn how to attend the ceremony.