August 8, 2022
Jacquelyn Lucy is a lifelong Marylander: born in Baltimore and raised in Glen Burnie, she currently resides in Catonsville. Currently retired, the Maryland Humanities donor has had an eclectic career. Lucy served as a former English and Journalism teacher at Severna Park Senior High School, a Public Information Coordinator/ Director of Alumni and Public Affairs for Dean's Office at University of Maryland School of Pharmacy, and the Media Relations Coordinator at the Community College of Baltimore County. She also owned her own marketing and communications business, Image Matters. Lucy spoke with us about the need for the humanities to openly address today's issues.
---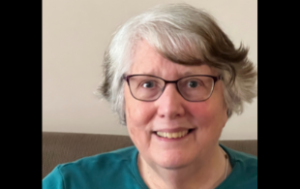 Q: What drew you to Maryland Humanities?
 A: I was not aware of the organization until the early 2000s. I was working in College Communication /Media Relations at the Community College of Baltimore County and was assigned to work with Judy Dobbs of Maryland Humanities on the promotions for Maryland History Day (usually held at CCBC Dundalk [at that point]) and Chautauqua (usually held at CCBC Catonsville). Both were wonderful experiences over the years and I have struck up a lifelong friendship with Judy and other wonderful staff members at Maryland Humanities.
Q: What is the most satisfying part of supporting Maryland Humanities?
 A: Since I value the mission and work of Maryland Humanities, I am proud to support its efforts.  Knowing that my gift will help continue and expand this important work, makes my gift more meaningful to me.
Q: Why is Maryland Humanities an important institution to have in Maryland? At this moment?
 A: I think that Maryland Humanities is in a unique position to help lessen the disparity of opinions and controversy facing our state and our country by promoting programs that encourage open discourse and discussion on real issues facing us—the pandemic, racial and gender issues, philosophical diversity and more—in a non-judgmental way.  Its programs, such as Maryland History Day, can focus on American accomplishments as well as our country's struggles—past and current—to survive as united states.   We need this type of open forum now more than ever.
Q: If someone is unfamiliar with our work, where should they start in getting to know us?  
A: From a personal public relations standpoint, I think the name "Humanities" still is not widely understood. It has an elitist connotation and even those people who are familiar with the word might even think its offerings are not really aimed at the general public
Recently, the Baltimore Sun printed an excellent article on Maryland History Day that highlighted the work of the organization. Congratulations on the great placement!  I think that this kind of publicity is crucial to creating awareness of your brand throughout the community.  I know that this is not easy and frankly unless it is combined with paid advertising is often not enough to create name recognition.