February 13, 2023
There's a lot of excitement around this year's One Maryland One Book (OMOB) pick with the theme of Connection. Our selection committee has narrowed our list down to a Top Three: Infinite Country by Patricia Engel, There There by Tommy Orange, and Red at the Bone by Jacqueline Woodson. These three similar yet singular novels will surely keep readers anticipating the final pick announcement in March.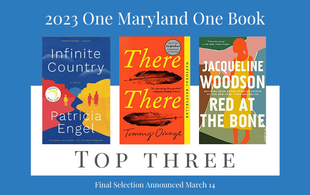 Infinite Country follows a mixed immigration status family from Colombia to the United States and back. Readers are introduced to the teenage protagonist Talia, as she escapes from a "prison school for youth offenders" in Colombia. Her father has procured a plane ticket reunite her with her mother and siblings in the United States, where she was born. Talia's journey is interlaced with her family members' points-of-view and their histories as a family, living in different countries and times.
Infinite Country represents a narrative common to many within Maryland's robust immigrant community, and specifically the growing Latine population, which as of 2019 make up 32.1% of first generation and 6.7% of second generation immigrants.
Rachael G. of our selection committee members says Country is "such a beautifully written book…a literary selection, short, and well-edited. It is one of my favorite books that I have read this year." Another member, Alejandra B. says "this novel is the most complete summary of the life of a Colombian immigrant. The heartfelt story not only made me long for my family still living in the city of Bogota, where I was born. It was a reminder that being an immigrant is an asset, a valuable addition to this country."
There There uses several characters' points-of-view to tell the story of Native Americans as they converge at the Oakland Powwow. However, they are all unaware of the ways that they connect.

One of our selection committee members, Brendan B., said of the novel: "It's one of my favorite books of all time." Another member, Becky A., said "It was the one I felt most interested in re-reading after I'd finished.  I was more drawn to the characters. There were several lines that lingered in my mind for days after finishing … and still bubble to consciousness when something even tangentially related comes up."
If There There is our selection, it would be the first OMOB selection by a Native American or Indigenous author since 2011. The book presents a new and long-overdue opportunity for Maryland's audiences to discuss and engage with Indigenous histories, narratives, and communities.
Red at the Bone takes a multi-generational look at sixteen-year-old Melody's family in Brooklyn, NYC. Issues involving sex, parenthood, class, and gender are apparent throughout the novel.
Committee member Natalie L., says "Jacqueline Woodson has woven a generational story that will resonate with all cultures and ages. Readers will become so intertwined in each character that they will experience the shared love so deeply and understand what it means to love til you're red at the bone will ring out in their soul." Another member, Patty S., says "This is the heart-wrenching story of two families brought together by Melody's birth. The choices each family member make along life's journey will resonate with anyone who has struggled to make their own hard decisions. It is another beautiful story from a writer who has a gift for allowing her readers to really know her characters."

Teens and younger readers, Woodson's usual demographic audience, will connect and relate a lot to the feelings and happenings in Bone. They are currently coming of age, as Melody does in the book, and beginning to learn about the adult world. But the novel also features raw history: readers absorb Melody's grandmother's account of the 1921 Tulsa Race Massacre where her grandmother's beauty shop was burned to the ground, or how the impact of 9/11 reverberates through Melody's family.
Only one of these three titles will be this year's selection, but that doesn't mean you can't add the other two to your to-be-read lists! There are deep connections between the characters in all of these books and we are excited to see what the final pick will be.