April 18, 2023
Denise Kresslein, Advanced Academics Teacher at North Carroll Middle School and Westminster East Middle School and Thomas Stavely of  Parkdale High School were named this year's Maryland History Day Statewide Middle and High School Teacher of the Year, respectively. The teachers discuss the impact of Maryland History Day program on students.

---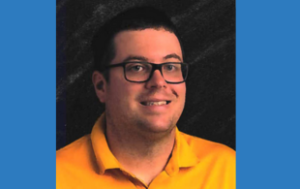 It's not every project where students can select projects ranging from the creation of NBA to women's fashion of the twenties to space. But that's the variety Thomas Stavely sees in his Parkdale High School classroom for Maryland History Day projects this year. "With Maryland History Day, you get to do whatever you want, as long as it fits the theme."
Stavely encourages students to ask "'what am I passionate about to learn more about?' I've seen so many projects that I have no idea about the topic." Some of Stavely's students surprise him with their topic choice. They pick subjects that have made  him say "Huh. I never even figured that would be kind of part of the theme of that year.'"
Denise Kresslein, Advanced Academics Teacher at both North Carroll Middle School and Westminster East School in Carroll County, also appreciates the options students have. "I like how the theme provides direction for the students yet is open-ended, to lead to a wide variety of topics," she says. This year's theme, selected by National History Day, is Frontiers in History: People, Places, Ideas.
"It's challenging for them [the students] to connect their research to the theme. That's a really higher-level thinking skill for them to be able to take something that they're interested in and figure out how it relates to that year's theme. So I really love that." Kresslein describes the job of an Advanced Academics Teacher. "I go into classrooms and help support students and provide extensions and enrichment activities for students and co-plan and co-teach along with teachers in a variety of different subject areas."
Kresslein and Stavely are this year's recipients of Maryland History Day Middle School Teacher of the Year Award High School Teacher of the Year Award, respectively. Annually, Maryland Humanities selects both a Middle and High School Teacher of the Year from across the state. The organization then nominates these honorees for the Patricia Behring Teacher of the Year Award, bestowed by National History Day. A committee of teachers and historians selects one middle school teacher and one high school teacher for the $10,000 national award. National History Day announces this year's winner during the National History Day Awards Ceremony on June 15.
When Stavely heard the news, he describes himself as "grateful" and "definitely kind of shocked when I first got that email." Along with teaching, he also works as a Teacher Coordinator at the Prince George's County school.
Kresslein feels as if the award is reflective of those she teaches. "I feel it's a real celebration of my students and all the hard work that they put in. This year, I was excited when I went into classes about how many students were really interested in exploring topics a little further and working together," she says. "They were excited all year long and worked really well. I'm very proud of them." She still feels "extremely honored to even be considered and I sincerely appreciate the recognition," says Kresslein.
Topic selection "is one way that we, we work to meet the needs of our students who need more challenge, they like the open-ended nature of the project. It allows for student choice," Kresslein says. "I had several students do projects relating to like a book they had read or someplace they visited with their family. It allows them to take what they're learning and go further with it, which I think is really important."
Stavely talks about the importance of making history personal, with his own and his students' stories   "I can tell a kid about economics and that gets very boring," he says. "But I can show a picture or talk about my grandparents  growing up with the Depression, living relatively poor, and kind of getting that firsthand account from my grandparents'  viewpoint" across to his students. "I think that has helped because these students, their grandparents, they were not at the age of Depression and World War Two, you know, their grandparents didn't serve. I had five great uncles all served during World War Two. So I bring in some pictures." A project one group of students created on Amelia Earhart may feel firmly in the past, but that group connected it to our current times: they had the opportunity to meet and interview a female pilot.
Ever since middle school, Stavely connect history to his personal life. At that age, he wrote a paper about The Battle of Iwo Jima. "It's my grandfather who was there." Kresslein's goal for the students is that they use research and analysis "to really find out how this event in the past has an impact on their current lives."
Both Kresslein and Stavely talk about the importance of her students sharpening their critical thinking in the current age.  "I feel like it's really important for students to be able to analyze information," says Kresslein. "We have so much information at our fingertips, it's really important for students to have that opportunity to dive into a topic really deeply, find quality research, and sift through it." She hopes that they will then "analyze the resources in a way that is meaningful and helps them answer questions they have about past events, and what they can teach us for the future." 
Stavely says that "Today, there's just so much fake news, you know, now chatGPT…I tell them 'going on the internet and saying like 'Joe Smith's History Blog,' probably not a good source," he laughs. "We're trying to find that you those .org .edus. So I think that's of course really big with today's online research."
Stavely sees Maryland History Day with a wider lens than preparing for college coursework. "We can apply critical thinking, to problem solving to research because again, any field you go into a kind of after high school, you're going to use new skills," he says. He tells his students that "This is something that you're going to use, from research from internet database to time management, to organizing."
Stavely offers up an example. "If you're gonna go to a trade school, you're gonna need to read a manual, understand directions, and understand [various] concepts. I think Maryland History Day does a good job of kind of showing students that while these skills are kind of school-based, they can be applied to any kind of job."
Skills students cultivate through Maryland History Day can assist them with not only a variety of future paths, as well as allowing them to process and share the information in a range of different ways. They have the opportunity to express their learning in a variety of different ways," Kresslein says. "Some students really liked working together on an exhibit, some want that more independent work and wrote a paper or we had some students that were really interested in creating a website and chose that avenue. So it provides so many opportunities for students to learn different ways of expressing the information, as well."
Kresslein and Stavely talk about the excitement Maryland History Day generates in their students.
Stavely discusses two quiet students who did "some of the best websites I've seen," whose project then uses an example. Other students then say 'Wow, that's something somebody in our school made.' 'Yeah, somebody in our school made this website,'" he proudly shares.
"I'm really excited this year, as well, after having we had 33 Students participate at one of my schools," says Kresslein. "They're already talking about next year's topic and excited about participating."
---
The Maryland History Day State Contest will take place on May 6 at UMBC. Learn more here.