August 9, 2016
When you hear the word "etiquette," do you think about finishing school and fine china? Do you remember wracking your brain at an important dinner, wondering which fork comes next and where to place your napkin? If so, you're not alone. Etiquette gets a bad rap.  In 2016, we rarely even speak of etiquette anymore. In contemporary society, having "good manners" is good enough. After all, etiquette books and advice columns are full of uncomfortable, outdated rules with no room for negotiation. Right?
In 1922, a woman from Baltimore dared to state that what was "socially right was what was socially simple and unaffected." She believed that people should be treated equally, that ordinary citizens want to do good, and that creating a comfortable, open environment where no one is judged was the duty of every person. Do you know who this woman was? If you said Gertrude Stein, you're close—but only geographically.
Emily Post, born Emily Price, spent the first ten years of her life living on Chase Street in Baltimore (a mere three blocks away from where Stein lived while enrolled at Johns Hopkins University). She was the daughter of Josephine Lee and Bruce Price, a successful architect whose "Shingle Style" influenced legendary innovators such as Frank Lloyd Wright and Robert Venturi. When the Price family moved to New York, their social circle included some of the richest families in America—the Vanderbilts, the Astors, and the Morgans, just to name a few. After marrying into a well-off family, Emily Post was ready to enjoy life as a wealthy Gilded Age wife.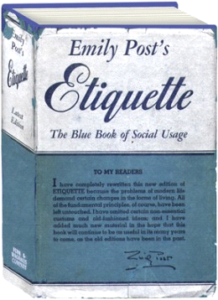 Instead, the marriage brought her scandal and shame. After being subjected to the public ridicule that followed her husband Edwin's many affairs, Emily Post needed to reinvent herself. After her name was tarnished in the blaring headlines of newspapers and gossip rags, being a society dame was no longer an option. So she took to writing. For the next fifteen years, Post wrote anything she could in order to support her two sons—novels, newspaper articles, digest features, travelogues, and serial stories. She befriended iconoclasts such as Mark Twain and Edith Wharton. In 1922, she published her first etiquette book: Etiquette in Society, in Business, in Politics, and at Home, a title that she would soon revise to the much simpler Etiquette.
You might be wondering how a scorned and scandalized woman became the American authority on decorum. Instead of pandering to society's upper crust, Post tailored her advice for the newly rich. In subsequent editions, she moved her focus to the middle class. To her, etiquette represented not money or education or "good breeding," but civility. In fact, Post's standards of caring for guests and being considerate of others are right in line with those of Johns Hopkins University professor P. M. Forni, whose 2002 book Choosing Civility: The Twenty-Five Rules of Considerate Conduct was the impetus for Howard County's Choose Civility initiative, led by the Howard County Library System.
"Etiquette is the science of living," Post once remarked. "It embraces everything. It is the code of sportsmanship and of honor. It is ethics."
Interested in learning more about Emily Post? See her childhood home and more on the Literary Mount Vernon Walking Tour. Our next public tour is Saturday, August 20.
Want to meet Ms. Post? Join us on October 15 for our first Literary Mount Vernon GHOST Walking Tour, where a ghastly Emily Post and other bygone literary luminaries will join us on our walk!
Get the details and grab your tickets on our Literary Walking Tour webpage.