July 5, 2017
For the 23rd season of our Chautauqua living history series, we are commemorating the 100th Anniversary of the United States' entry into the Great War as three World War I-era figures come to life on the Chautauqua stage. As Chautauqua approaches, we will hear from the three scholar-actors who will perform at seven sites across Maryland this July. Our last post is from Doug Mishler, who previews his performance as General John Pershing.
What drew you to this character?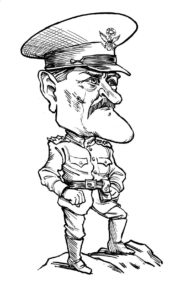 I had heard about General Pershing for years, but he did not register in my mind until I read a piece about how his family had died shortly before going overseas.  That opened the door for me to try to understand this complex man going through such a devastating personal crisis while having to lead millions of men, form an army from scratch, and take on modern war in all its horror.  How does a man do that?  What kind of a man does that?
How did you research your character and prepare for your performance?
I start with generic biographies and then focus on reading and re-reading as much detail as I can.  I also attempt to get as much as I can of their "own words," sifting through, in this case, Pershing's endless account of the war—it is not an easy read, by the way.  I try to cover all aspects of his amazingly long and complex career, which saw him in battle near constantly.
What is the most interesting facet of your character's life?
For me it is that this is a compassionate man who deeply and profoundly loved his family and a few friends, but after his family died, he never made a new friend.  Their death intensified the duality of the man who could be so officious and formal publicly, but at heart was warm and gregarious.  He was a man who with steel will could send tens of thousands of men to their deaths, but privately weep over what he had to do and wonder if they could ever forgive him.
Did you learn anything new or surprising about your character through your research?
I learned tons, about the complexity of the man and the duality of his personality.  His sense of duty and his sense of honor were so profound, and his leadership was remarkable.
This year our Chautauqua series commemorates the 100th Anniversary of the United States' entry into the Great War. What do you think your character's legacy was in World War I?
For Americans in many ways, he was the war.  The good and bad, the necessity, the horror and death, all revolve around this tough, hard man who had an iron will.  He was a man who led the American military into a new century as a modern integrated force and in a way helped launch the United States onto the world stage from which it has never left.
Experience Doug Mishler's performance as General Pershing at a Chautauqua location near you, starting today!
About Doug Mishler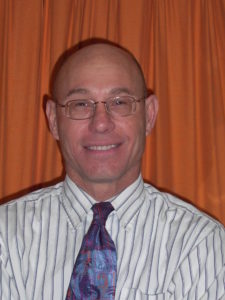 Doug Mishler is an independent scholar who has taught at the University of Nevada and Western Washington University. He is the author of a history of the Ringling Brothers Circus and has consulted on several public television and Chautauqua programs. Since 1995, Mishler has appeared in Maryland Humanities' Chautauquas as P. T. Barnum, Theodore Roosevelt, William Lloyd Garrison, Henry Ford, Jefferson Davis, George Wallace, Upton Sinclair, and Major General Robert Ross. He also portrays Ernie Pyle, Billy Sunday, William Clark, Andrew Carnegie, Edward R. Murrow, Thomas Hart Benton, and Nikita Khrushchev. Mishler has a Ph.D. in American cultural history from the University of Nevada, Reno.