November 29, 2017
I am 26 years old, which means that I probably have an iPhone and spend too much time on the internet, but it also means that the United States of America has been at war for 66.7 percent of my life according to 2016 census data. For the majority of my life America has been at war, and for the most part I have not known the difference. However, at Southern High School, Ms. Jennifer Davidson's classroom of 9th graders, whose entire lifetime has been spent in a state of war, are working to better understand the sacrifice that our service members make each day by conducting oral history interviews with Vietnam Veterans.
In a 2013 Washington Post Opinion Piece General Martin Dempsey, the former Joint Chiefs of Staff chairman, pinpointed the importance of programs like the Veterans Oral History Project, and implored Americans to "listen to our veterans. If we do, we'll hear stories of pride and courage, anger and pain, laughter and joy. We'll hear of actions that humble and inspire us. We'll also hear of moments that break our hearts. These stories represent the best of our nation."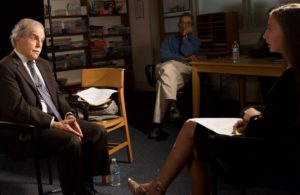 Sitting in a dark and quiet corner of the Southern High School Library I experienced the best of our nation. A former Army Infantry Officer, with a stack of Vietnam books at his feet, sat across from the young woman interviewing him and shared the duty, pride, guilt, sorrow, and comradery that has punctuated his life since his number was called. In turn the student listened, deeply and without judgement. In a historical moment where it is easy to feel like interpersonal skills do not matter, it is a powerful thing to witness people really listening and truly being heard.
Though Ms. Davidson's students are remarkable, they did not get to that crucial moment of exchange without some help. Ms. Davidson saw an opportunity for her students to better understand the context and impact of the Vietnam War when re-thinking how she taught her U.S. history courses. In order to make her vision a reality, she reached out to Dr. Barry Lanman of the Martha Ross Center for Oral History at the University of Maryland, Baltimore County and Maryland Humanities for support. Together Ms. Davidson and Dr. Lanman have built a curriculum that teaches students and educators the "how to" of oral history. These online lesson plans and oral history tool kits were created in collaboration with Maryland Humanities and the National Endowment for the Humanities, and can be found on EDSITEment. The curriculum can also be adapted to facilitate projects with other eras of veterans or different types of communities.
I sat in on the students' nuts and bolts of oral history session delivered by Dr. Lanman, and watched a classroom of skeptical adolescents work out how to ask open ended questions and maintain composure when asking difficult and personal questions. According to the Baylor Institute for Oral History, the mission of all oral history research has to be "preserv[ing] the stories of individuals who helped create the fabric of history and whose lives, in turn, were shaped by the people, places, events, and ideas of their day." It was clear to me that through "doing history" these students are not only safeguarding invaluable stories, but coming into their own as historians with a solid foundation in how to conduct thoughtful original research in communities.
Oral history is an invitation rather than a destination for everyone involved. The hope is that sharing their wartime experiences with young people who value them opens veterans up to sharing their experiences with others. For students I hope that it ties the facts and figures of history to real people and helps them realize that, as the Southern Oral History Project puts it, "you don't have to be famous for your life to be history."
Explore the Veterans Oral History Project curriculum and tool kit or learn more about other Maryland Humanities Veterans programs by visiting our website. You can see interview transcripts as well as images and other documents here through the Maryland State Archives. If you are interested in bringing the Veterans Oral History Project to your school or community contact Anna Keneda at akeneda@mdhumanities.org.  
Find more examples of student produce oral history videos on the Maryland Humanities YouTube page.
---
Disclaimer: The views and opinions expressed on our blog do not necessarily reflect the views or position of Maryland Humanities or our funders.