July 24, 2018
For the 24th season of our Chautauqua living history series, Seeking Justice, we commemorated three Americans with a commitment to justice. Communications Specialist Sarah Weissman interviewed Brian Anthony Wilson, the Chautauqua actor who portrayed Thurgood Marshall, for his reflections on his first time as a Chautauquan and his experience portraying Marshall.
---
Actor Brian Anthony Wilson, probably most familiar to audiences for guest starring as Detective Vernon Holley in all five seasons of The Wire, calls playing first African American Supreme Court Justice Thurgood Marshall "the biggest challenge of my thirty-five-year theatre career." Wilson played Marshall in the George Stevens, Jr. play Thurgood at Olney Theatre Center last summer. He reprised his role in an excerpt from the one-man show for this year's Chautauqua series. In a different format for the Maryland Humanities program, a dialogue with scholar Dr. Lenneal Henderson followed the performance.
Critics who reviewed Thurgood at Olney said that Wilson brings an "imposing physique, sonorous voice and disarming demeanor to the assignment," or call the actor and the man he portrays "beautifully paired." When reading the reviews, the challenges Wilson faced in rehearsal may come as a surprise.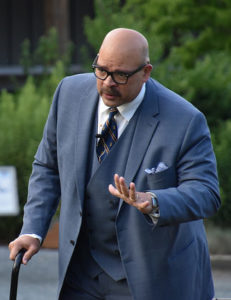 "Thurgood Marshall was a fascinating and complicated man, made of much sterner stuff than me. I was 'almost' about to give up on this role," Wilson confesses. "I was struggling, mightily! But my family and my director [Walter Dallas] gave me support and some tough love when I needed it."
 Wilson said the role taught him to "pull up his socks." He informs me that Marshall's first wife, Vivian "Buster" Burey Marshall, often said that phrase to Marshall. "I gave it [the role] all I had," he says. Because of this, Wilson calls the role "the greatest triumph of my career."
Wilson says the format taught him "a valuable lesson, to be prepared for anything, even performing outside! I enjoyed traveling to and fro, meeting different folks and performing at various venues with unique setups." Wilson describes this his first Chautauqua as "very well-organized, with a friendly & supportive staff" and Chautauqua audiences as "wonderfully present, audible and attentive!"
 While no longer playing the role, Thurgood Marshall continues to influence Wilson.   "Thurgood inspires me to try to be a better man, father, son, and husband," he says. "The obstacles he overcame & the injustices he fought against were nigh insurmountable but he managed to conquer them, with a keen intellect, humor, and style. You can't help but be inspired by the man's myriad accomplishments!"
---
Sarah Weissman is the Communications Specialist for Maryland Humanities. She previously served as the Communications and Fundraising Assistant at Woodbourne Center and the Marketing and Communications Director at Glass Mind Theatre, an all-volunteer company. Weissman has a B.A. in English from Goucher College, with a Concentration in Writing, as well as a Minor in Communication and Media Studies.
Disclaimer: The views and opinions expressed on our blog do not necessarily reflect the views or position of Maryland Humanities or our funders.