April 22, 2021
Our Museum on Main Street tour of Voices and Votes: Democracy in America has launched: the tour kicked off Allegany Museum! For Museum on Main Street, a Smithsonian exhibition tours the state. Local host venues and their partners present companion exhibits and programs: this year, these exhibits explore our democracy, examine our civic responsibility, and reflect on how we lift voices in our communities.
Frostburg State University, one of Allegany Museum's partners, created an exhibit that features memorabilia and Western Maryland people in public service. We spoke to Yelizaveta L Zakharova, Librarian at Frostburg's Lewis J. Ort Library, about the companion exhibit and her experience.  
---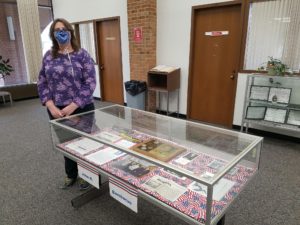 Q: What and who does your exhibit include? Can you describe what each person is known for?
A: Our exhibit features notable politicians in Western Maryland who have dedicated significant portions of their careers to benefit our region. People highlighted include Senator J. Glenn Beall Sr., Senator J. Glenn Beall Jr., Cas Taylor, John Bambacus, and Lucile Roeder. Senator J. Glenn Beall Sr. and J. Glenn Beall, Jr., whose papers provided the foundation for the J. Glenn Beall Archives, were two out of the three only U.S. Senators to serve from Western Maryland. Cas Taylor served as the Speaker of the Maryland House of Delegates from 1994-2003. John Bambacus served as Mayor of Frostburg for four terms and in the Maryland State Senate for two terms. Lucille Roeder was the first woman to serve for the Cumberland City Council and first woman to become Allegany County Commissioner.
Q: How did you decide to participate in Voices and Votes?
A: I was recruited by Vic Rezendes, Vice President of Allegany Museum and the [Western Maryland] Voices and Votes host. Vic asked Frostburg to come up with a companion exhibit for the traveling exhibition and helped us come up with the theme for our exhibit.
Q: How did you choose the exhibit's focus?
A: We had a discussion with Vic Rezendes and our Library Director,  Dr. Lea Messman-Mandicott, early on where we decided to focus on local political leaders. The J. Glenn Beall Archives features several of these local leaders.
Q: After selecting the subject matter, would you discuss the process of developing the exhibit?
A: I decided to focus on five different political leaders and have our welcome exhibit feature memorabilia from the Albert and Angela Feldstein Collection. I asked Al Feldstein which local politicians from his collection he would suggest focusing on for the welcome exhibit case and he helped me pull that exhibit together. I was also very excited to get the opportunity to showcase the giant poster of Mike Steel from the Feldstein Collection (it's about 10 feet tall!).
For the exhibit cases that featured the political leaders, I used materials from the J. Glenn Beall Archives and borrowed some materials from the Allegany Museum. It was suggested by leadership in the Allegany Museum to do an exhibit on Cas Taylor which I was happy to accomplish. I also worked with Sandra Roeder who helped provide personal artifacts depicting the career of her mother, Lucile Wilcox Roeder.

Q: Why is the topic, Voices and Votes, important now?
A:  Democracy is making sure your voice is heard. Many of the political leaders I featured in our exhibit started small and started locally. One was a restaurant owner, another was raising two young children when she decided to go into local politics. The third was a Vietnam veteran and a college professor. Many of these people were not wealthy or from prominent families. The local residents made their voices heard and elected people who represented them here in Western Maryland. Every vote counts!
Q: What's the most valuable part of being a host site's partner? Can you discuss your experience collaborating?
A: It was a lot of work for me, but that is because I decided to be very ambitious! I am pleased with how the exhibits turned out. The Allegany Museum was very helpful when I asked to borrow materials for my exhibit. Being a partner is also an opportunity for publicity and attention on your institution from all the outreach Maryland Humanities does. I am hoping that my companion exhibits will be an opportunity for the local community to also learn about the J. Glenn Beall Archives.
Q: What would you like visitors to get out of the exhibit? The exhibit paired with the larger exhibition?
A: An appreciation for the amazing people who have done a fantastic job representing Western Maryland. I have learned a lot about these leaders' careers and everything they have accomplished for our region. Cas Taylor made it his goal to make sure that Western Maryland got as many resources as possible, considering much of the industry had died by the time he became Speaker of the House. Without his efforts, it is quite possible Western Maryland would still not have an interstate. Without the efforts of J. Glenn Beall, Jr., there would be no Archives or political Institute on campus, neither would there be Canal Place [Heritage Park, Maryland's first Heritage Area]. Lucile Roeder helped build up Allegany County a great deal while she was in office. The accomplishments are endless and it shows how dedicated our local leaders are to this region.

Q: What impact will this experience have on future Frostburg programming? On you? What impact do you imagine it will have on Frostburg students?
A: I hope students will get the chance to check out the exhibits! FSU is top among Higher Ed. Institutions for Civic Engagement every year. I hope students will understand how civic engagement benefits their community.

Q: What was your favorite part of the experience?
A: Learning about the pollical figures I researched, and the final product of putting together some higher-caliber display cases.
Q: Is there anything else you'd like to include?
A: I want to thank Maryland Humanities for their dedication and hard work! The staff have been amazing to work with and I appreciate very much their efforts in promoting our exhibits and the video presentation we made of my companion exhibit.
---
Click here to watch the Voices and Votes Virtual Opening Celebration, which includes a segment with Zakharova. Learn more about Frostburg's exhibit, including visiting information, at https://www.frostburg.edu/library/ or call (301) 687-4395.
Voices and Votes runs at Allegany Museum April 17–May 30, 2021. Allegany Museum is located at 3 Pershing Street in Cumberland .The exhibition will be on view Wednesdays through Sundays, 1:00–4:00 p.m. Learn more at alleganymuseum.org or call (301) 777-7200.
If you were creating a companion exhibit about the history of public service and civic engagement in your region, what would you include? Let us know in the comments!

Disclaimer: The views and opinions expressed on our blog do not necessarily reflect the views or position of Maryland Humanities or our funders.