August 18, 2021
On Saturday, Voices and Votes: Democracy in America—our current Museum on Main Street Tour of Maryland—arrived at The Edward H. Nabb Research Center for Delmarva History and Culture at Salisbury University. Each Voices and Votes host creates a local exhibit to complement the Smithsonian Institution exhibition. The Nabb Center presents Voices and Votes: Democracy on Delmarva, which explores expressions of democracy and highlights stories of rebellion, resistance, and perseverance that have shaped Delmarva's past and present.  Melinda McPeek, the Nabb Center's Curator of Exhibits and Engagement, gives us some behind the scenes info on the companion exhibit. 
---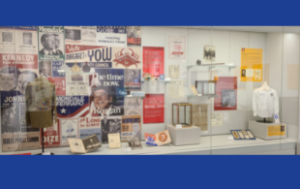 When the Nabb Research Center was chosen to host the Smithsonian Museum on Main Street exhibition, Voices and Votes: Democracy in America, it provided an excellent opportunity to dive into our collections in search of stories that exemplified the themes of the exhibit on a local level.  Over the past year, Nabb Center staff, students, and interns have been on a quest to find historical documents, images, and artifacts in our collection that would bring to life stories of the people and events that help shaped democracy on Delmarva. The results of this treasure hunt form the companion exhibit, Voices and Votes: Democracy on Delmarva.
Some of the artifacts uncovered include a dairy pail that played an important role in the Wicomico Woman's Club campaign to keep milk safe from tuberculosis and a 1795 letter to Caesar Augustus Rodney from William Peery that provides a glimpse into the emergence of our nation's two-party political system.
A curious collection of diplomatic gifts from Brazil led us down the path to discover Maryland's connection to Rio de Janeiro and the late Governor Tawes' role in President John F. Kennedy's Alliance for Progress—a U.S. effort intended to promote democracy and provide aid to Latin American nations. One of the most exciting finds was audio recorded in 1963 by WWDC radio reporters on the streets of Cambridge, Maryland that captures the civil rights movement as it was unfolding on the Eastern Shore of Maryland.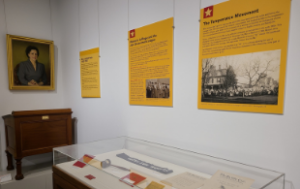 The Nabb Center also reached out to local area museums and libraries to participate in the exhibit. Several organizations provided stories, photographs, and artifacts that helped broaden the narrative. We are extremely grateful to the Eastern Shore Public Library, Worcester County Library, the Ward Museum, Taylor House Museum, and the Ocean City Life-Saving Museum for contributing to the exhibit.
Being selected by Maryland Humanities to host Voices and Votes and participating in the Museum on Main Street program has been such a rewarding experience. We hope the Voices and Votes exhibits promote discussion and inspire our student and local community to think about the democratic process, activism, civic engagement, and how their voice really can make a difference.
---
Voices and Votes: Democracy on America is on view at the Nabb Center through September 25: the exhibition arrives at Sandy Spring Museum on October 10. Learn more about the exhibition here.
Nabb Research Center will follow specific COVID safety protocols. The Nabb Center will open to the public on August 30. Prior to then, it will be open to members of Salisbury's faculty, staff, and student body: members of the public may visit the exhibition before that date on August 17, 19, 24, and 26 from 1:00 to 4:00 p.m. A docent will be stationed downstairs to provide entry. As of August 30, the Nabb Center will be accessible to the public Mondays through Fridays from 10:00 a.m. to 4:00 p.m. through September 25.
Voices and Votes: Democracy on Delmarva is on view in the G. Ray Thompson Gallery on the 4th floor of Salisbury University's Guerrieri Academic Commons through December 10, 2021. Can't make it to Salisbury? View the exhibit online. Disclaimer: The views and opinions expressed on our blog do not necessarily reflect the views or position of Maryland Humanities or our funders.