October 29, 2021
Elizabeth (Liz) Cannon resides in Frederick and works as a content management consultant. She served on the Board of Directors of Maryland Humanities from 2010-2019: she has donated to the organization since 2009. Cannon judged the Maryland History Day competition at both the local and state level for many years, and performed in the organization's final year of its living history program, Chautauqua. She talked about the importance of the humanities.
---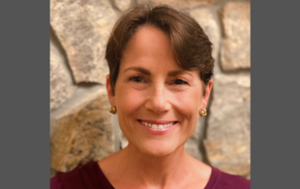 Q: What drew you to Maryland Humanities?
A: The programs! One of my favorites is One Maryland One Book (OMOB), where I can join people all over the state in reading and discussing the same book, and then meet the author on tour. I have an entire shelf of OMOB books, collected over the last 15 years. Every one is a page turner that has also sparked thought and lively conversation.
Q: What is the most satisfying part of supporting Maryland Humanities?
A: Knowing that my contribution supports free programs that enrich the lives of people in communities large and small across Maryland. As both a grant-receiving and grant-making organization, Maryland Humanities gets a big "bang for the buck" by sponsoring a combination of recurring statewide programs and local programs hosted by museums, libraries and other community partners.
Q: What makes Maryland Humanities a unique organization?
A: Using the disciplines of the humanities—literature, philosophy, history—as a lens through which to consider big questions: Is our democracy healthy? How do we balance liberty and order? What does a just society look like? What does it mean to be human?
Q: Why is Maryland Humanities an important institution to have in Maryland? At this moment?
A: At this moment, people seem increasingly isolated and divided—socially, politically and demographically. Maryland Humanities helps bridge these divides by providing opportunities to engage in respectful and meaningful dialogue about what matters most to us as individuals and members of society.
Q: What is our impact you've seen in your communities?
A: Seeing high school students gain valuable insights and new perspectives on the world around them by conducting research for the annual Maryland History Day competition. History Day builds strong scholarly skills and fosters critical thinking about how the past affects the present.
Q: If someone is unfamiliar with our work, where should they start in getting to know us?
A: Visit the website to learn about all of the programs and check the calendar for upcoming events. One not-to-be-missed current program is the Voice and Votes Smithsonian exhibition on tour through January to five venues across the state [through Maryland Humanities' Museum on Main Street program].
---
Disclaimer: The views and opinions expressed on our blog do not necessarily reflect the views or position of Maryland Humanities or our funders.