March 11, 2019
Maryland Humanities is delighted to welcome Christine Stewart, our new Program Officer for Maryland History Day, Chautauqua, and the Veterans Oral History Project. Communications Specialist Sarah Weissman interviewed her. Learn more about Stewart in this feature, before she begins next week.
---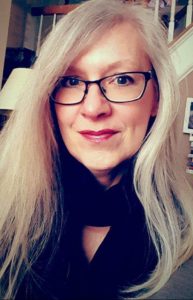 "Young people are brave, brilliant, critical thinkers," says Chris Stewart, in anticipation of her new role as the Program Officer for Maryland History Day, Chautauqua, and the Veterans Oral History Project at Maryland Humanities. Stewart most recently served as the Program Director for Arts in Education, Poetry Out Loud, and Grants for Organization with the Maryland State Arts Council. Her work included youth development and she also managed the Poetry Out Loud contest in Maryland, a literary program and competition for high school students.
"Watching them engage with the world and others through poetry in a meaningful, creative way, I am looking forward to helping students do the same through history and their communities," Stewart says.
Stewart, an award-winning writer of poetry and fiction, begins her role on March 18. Judy Dobbs, who has been working full-time at Maryland Humanities since 1986, will retire.
"I'm so happy that History Day, Chautauqua, and the Veterans Oral History Project will be in such good hands," Dobbs says. "I look forward to seeing them grow and flourish under Chris's supervision."
Stewart shares her excitement for lifelong learning, a central part of the Maryland Humanities mission, "especially opportunities to connect young people and older citizens."  She has mentored and taught children and youth via various nonprofits in Maryland and California.
Stewart worked at Maryland State Arts Council for over a decade, where she led partnerships with Maryland Humanities on projects like Literary Arts Week. "I know how terrific the staff is," she says. "I feel lucky to be joining them and taking on new challenges." Stewart describes the amount and depth of programs, partnerships, and grants as "impressive and inspiring!"
Stewart believes that "books create a wonderful bridge between people" and calls Moby Dick by Herman Melville and The Ambassadors by Henry James her favorites.
"D. H. Lawrence called Moby Dick 'one of the strangest and most wonderful books in the world, which is why I love it,'" she says. "Every chapter is its own adventure." As for James, his work "can get dark and dense in there but his study of human nature is fascinating and moving to me."
Stewart enjoys traveling, runs a small press, and calls herself a "Janeite," the affectionate name for Jane Austen devotees. She also dubs herself a "Whovian," a fan of the British science fiction television phenomenon, Dr. Who.
---
Disclaimer: The views and opinions expressed on our blog do not necessarily reflect the views or position of Maryland Humanities or our funders.