November 24, 2020
In 2019-2020, we explored the human relationship to water in multiple programs in 2019-2020: Maryland H2O tied together this array of programming, and some of our partners' programs. As the year comes to a close, Maryland H2O officially ends. Theresa Worden, Traveling Exhibitions and Program Evaluation at Maryland Humanities, led the initiative: she reflects on it here.
---
Q: Please briefly summarize Maryland H2O and give examples of the breadth of its programming.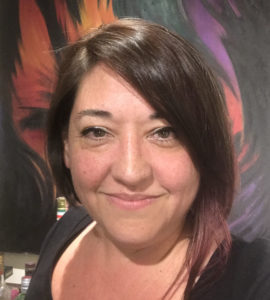 A: Maryland H2O was the umbrella initiative that brought together Maryland Humanities' Museum on Main Street tour of the traveling exhibit Water/Ways, the presentation of the Smithsonian exhibition H2O Today, water-themed Chautauqua programs, and One Maryland One Book selection and author tour to create engaging programs and spark a statewide discussion about water.
Maryland Humanities and partners presented exhibits and programs that centered on our history and relationship with water. Some of this work built upon ideas from our Pulitzer programming in 2017 that touched upon environmental humanities. Our hope with Maryland H2O was for programs to explore environmental issues through the lens of the humanities, for example using ethics, philosophy, and literature to help frame how we think about equal access to clean drinking water.
Programs ranged from local exhibits (the importance of the canal for transportation in Hagerstown, the history of the oldest privately-owned and operated ferry in the US in Oxford, the disappearance of islands in the Chesapeake Bay) to poetry contests, water-conservation planting workshops, and tours of water-treatment plants. I was able to join a paddle tour led by a riverkeeper and a conservationist, to discuss the impacts sea level rise is having in Oxford, MD.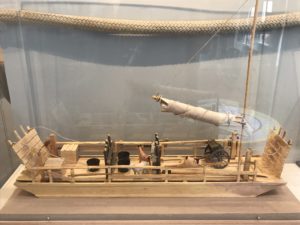 Q: How did you come up with the idea for Maryland H2O?
A: Maryland Humanities committed to tour the Water/Ways exhibit back in 2015, before I was hired to manage the Museum on Main Street program. In fact, we talked about the importance of water during the interviews, so I knew when I accepted the position then that water was to be a centerpiece of programming for 2019 and 2020. I've been thinking and planning what would become Maryland H2O since 2016.
Water is central to Maryland: it's part of Marylanders' history, culture, future. In many ways, I structured the Maryland H2O initiative around that fundamental idea. I knew that there would be so many interested in the topic, so a major focus was ensuring there was a breadth of representation across geography and organizations. We worked with partners from Maryland Public Television, Heritage areas, community centers, private businesses, land conservancy organizations, parks, churches, libraries, and garden clubs, to name just a few.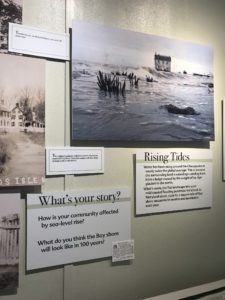 Q: How was the program unique in contrast to other programming Maryland Humanities has done? What was special about it?
A: Water is a theme that has incredible reach and it was a huge opportunity for Maryland Humanities. It cuts across disciplines, from science to Art – and all through the middle, where the Humanities reside. This theme allowed programming to have so many access points for entry and allowed for so many angles to explore.
Water is just as easily the focus of a poetry contest as it is for a lecture series on oysters.

Q: How has COVID altered Maryland H2O programming?
A: The Water/Ways tour closed on March 7, just before the complete shutdown. We were very lucky to have been able to complete the entire tour open to the public. Unfortunately, H2O Today has been closed because JPPM had to close due to the pandemic.
We continued supporting "behind the scenes" work of our tour partners, like the creation of an exhibit installed aboard the Oxford-Bellevue Ferry, even though they have been closed to the public.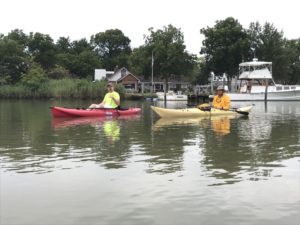 Q: What did Maryland H2O teach you about our state?
A: I'm always in awe of what our partners accomplish when they participate with Museum on Main Street. Their creativity and enthusiasm, matched with their mettle, produces amazing results for their communities. I learned so much about what folks around the state are concerned about locally and what makes living there so special.
Q: What will you take with from Maryland H2O after it wraps up? What are some valuable lessons?
A: In a lot of ways, I realized Maryland H2O really just scratched the surface upon discussions that communities must continue to have about water. Maryland Humanities can continue to play a vital role in these discussions by supporting the work our MDH2O partners, by considering shifts in programming toward reflective conversations, and by leaning a bit more into the realm of environmental humanities.
Q: Did Maryland H2O change your perspective at all? If so, how?
A: Maryland H2O was a huge undertaking for Maryland Humanities and despite the challenges of COVID, I still consider this initiative a success. This was the first integrated two-year initiative we've presented and the implementation of the various facets was a huge learning opportunity for our team.
From a work perspective, I am incredibly grateful for the opportunity to partner with so many diverse groups around the state and for everything they taught me. I am thankful for the support of my coworkers throughout the process and the wonderful relationships I've been able to forge over the two years of planning, brainstorm sessions, check-in calls, and site visits across the state.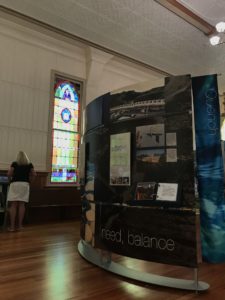 Q: What were some of the best reactions from partners and event attendees on Maryland H2O?
A: Here are some quotes from our partners:
Oxford Museum
"This project helped the community appreciate the Oxford Museum for its attention to contemporary (not just historical) issues.  And it helped the Museum recognize that we must continue to engage our audiences in stories that are more closely tied to their lives today."
"We live in a region that is severely threatened by the rising tides accompanying climate change. Nevertheless, many of our neighbors still do not admit that these times present any special challenge or demand any changes in our behavior.  Water/Ways gave us an opportunity to present water as a central element of our health, work, play and inspiration, which opened channels for re-examining the world around us.  Thank you."
Historical Society of Baltimore County
"One of the real highlights of the exhibit experience for us was the chance to work with a dedicated group of 12 students from Lansdowne High School's Televideo program. With the help of funding from the MoMS Stories:YES program, we were able to help them purchase equipment to allow them to work on this project and more in the future. Also collaborating with the Howard County Historical Society, they were able to produce a full-blown documentary of over 10 minutes about the flooding in Ellicott City, past and present. This included several interviews, footage of the floods, graphics, voice overs, B roll, and music. Considerable editing skill was also displayed in putting everything they filmed and gathered into a final product.
This subject fit into our exhibit topic perfectly. Throughout the run, we saw people drawn into watching it in the exhibit, and walking away discussing the topic and what they'd learned. Whenever I was speaking to anyone about coming to see the exhibit, this was consistently the part that made them perk up and get excited to come. We were also happy to hold a premiere of the film for the students' families and the community in Ellicott City.
The great success of this collaboration has opened a new door for us as an institution for working with student groups. In the future we plan to work again with this school and explore partnerships with schools in other regions of the county."
Calvert Library
"Every single time I passed the exhibit, at least 2 people were standing still perusing it!!  It was so rewarding to see how much people engaged with it.  It was particularly lovely to get involved in conversations with families about their own water stories.  So heart-warming!! Thank you so much for the opportunity."
---
Disclaimer: The views and opinions expressed on our blog do not necessarily reflect the views or position of Maryland Humanities or our funders.