The 2019 One Maryland One Book is
What the Eyes Don't See: A Story of Crisis, Resistance, and Hope in an American City by Mona Hanna-Attisha
Join us from Mountain Maryland to the Ocean City shore as we read and discuss this year's inspirational true story and New York Times Notable Book.
Programming takes place this fall mid-September to mid-November.
What the Eyes Don't See
by Mona Hanna-Attisha
"What the Eyes Don't See" is a gripping, inspirational true story that reads as a scientific thriller, as Dr. Mona fights to prove how Flint's children were exposed to lead.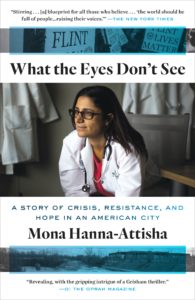 About the Book

What the Eyes Don't See: A Story of Crisis, Resistance, and Hope in an American City

Flint was already a troubled city in 2014 when the state of Michigan—in the name of austerity—shifted the source of its water supply from Lake Huron to the Flint River. Soon after, citizens began complaining about the water that flowed from their taps—but officials rebuffed them, insisting that the water was fine. Dr. Mona Hanna-Attisha, a pediatrician at the city's public hospital, took state officials at their word and encouraged the parents and children in her care to continue drinking the water—after all, it was American tap water, blessed with the state's seal of approval.

But a conversation at a cookout with an old friend, leaked documents from an environmental inspector, and the activism of a concerned mother raised red flags about lead—a neurotoxin whose irreversible effects fall most heavily on children. Even as circumstantial evidence mounted and protests grew, Dr. Mona knew that the only thing that could stop the lead poisoning was undeniable proof—and that to get it, she'd have to enter the fight of her life.

What the Eyes Don't See is the inspiring story of how Dr. Mona—accompanied by an idiosyncratic team of researchers, parents, friends, and community leaders—proved that Flint's kids were exposed to lead and then fought her own government and a brutal backlash to expose the truth to the world. Paced like a scientific thriller, this book shows how misguided austerity policies, the withdrawal of democratic government, and callous bureaucratic indifference placed an entire city at risk. And at the center of the story is Dr. Mona herself—an immigrant, doctor, scientist, and mother whose family's activist roots inspired her pursuit of justice.

What the Eyes Don't See is a riveting, beautifully rendered account of a shameful disaster that became a tale of hope, the story of a city on the ropes that came together to fight for justice, self-determination, and the right to build a better world for their—and all of our—children.

About the Author

Dr. Mona Hanna-Attisha is a pediatrician, professor, and public health advocate who spearheaded efforts to reveal, publicize, and fix Flint, Michigan's water crisis. In 2014, a change in the city's water source resulted in astronomical amounts of lead leaching into the drinking water, causing irreversible damage to Flint's residents. As a local pediatrician, the poisonous levels of lead in the water terrified Dr. Hanna-Attisha, and she was shocked that the government ignored complaints, protests, and reports from citizens, journalists, and experts. She knew that the only way to stop the lead poisoning would be to present undeniable proof on a national platform.

In a tremendous act of bravery, Dr. Hanna-Attisha held a press conference where she revealed her team's findings before they were peer-reviewed, prioritizing the health of her community over the risk to her career. Dr. Hanna-Attisha faced a brutal backlash, but her persistence paid off:  the city switched the water back to its original source and President Barack Obama declared a federal emergency. She has since been called to testify twice before the United States Congress, was awarded the Freedom of Expression Courage Award by PEN America, and was named one of Time magazine's "100 Most Influential People in the World."

Dr. Hanna-Attisha's powerful book, What the Eyes Don't See, is a dramatic first-hand account of the signature environmental disaster of our time and a riveting narrative of personal advocacy. A medical and scientific thriller, the book grapples with our country's history of environmental injustice while telling the inspiring personal story of Dr. Hanna-Attisha—an immigrant, a doctor, and a scientist—whose family roots in social justice activism helped her take on the Flint water crisis. In her popular talks, she explores the horrific reality of how misguided austerity policies and callous bureaucratic indifference placed an entire city at risk.

A passionate activist, Dr. Hanna-Attisha created the Pediatric Public Health Initiative, a model program to mitigate the impact of the Flint water crisis. As founder and director of this organization, she combines community and clinical programs, childhood health policy and advocacy, and robust evaluation to give Flint children a better chance at future success.

Dr. Mona Hanna-Attisha on One Maryland One Book

"I'm humbled and psyched that What the Eyes Don't See has been selected as the 2019 One Maryland One Book. I am looking forward to engaging with Maryland readers about the many timely issues that the book magnifies including poverty, race, industrial decline, inequality, toxic stress, austerity, and immigration.

I'm especially happy that the committee recognizes that environmental justice fits neatly within this year's theme of 'nature.' In Michigan and Maryland – states with an abundance of natural beauty – the burden of environmental harm does not fall equally."