The 2017 One Maryland One Book is
Purple Hibiscus by Chimamanda Ngozi Adichie
Join us from Mountain Maryland to the Ocean City shore as we read and discuss this year's thought-provoking selection, winner of the Commonwealth Writers' Prize and the Hurston/Wright Legacy Award.
Programming takes place this fall in September and October.
Purple Hibiscus
by Chimamanda Ngozi Adichie
"Purple Hibiscus is an exquisite novel about the emotional turmoil of adolescence, the powerful bonds of family, and the bright promise of freedom."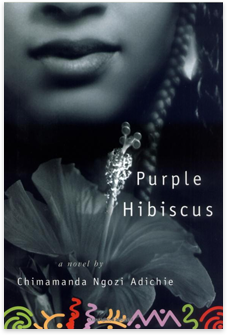 About the Book

Fifteen-year-old Kambili and her older brother Jaja lead a privileged life in Enugu, Nigeria. They live in beautiful house, with a caring family, and attend an exclusive missionary school. They're completely shielded from the troubles of the world. Yet, as Kambili reveals in her tender-voiced account, things are less perfect than they appear. Although her Papa is generous and well respected, he is fanatically religious and tyrannical at home—a home that is silent and suffocating. As the country begins to fall apart under a military coup, Kambili and Jaja are sent to their aunt, a university professor outside the city, where they discover a life beyond the confines of their father's authority. Books cram the shelves, curry and nutmeg permeate the air, and their cousins' laughter rings throughout the house. When they return home, tensions within the family escalate, and Kambili must find the strength to keep her loved ones together. Purple Hibiscus is an exquisite novel about the emotional turmoil of adolescence, the powerful bonds of family, and the bright promise of freedom.

About the Author

Nigerian writer Chimamanda Ngozi Adichie is the leading African writer of her generation. She grew up on the campus of the University of Nigeria, Nsukka, and left Nigeria for the U.S. at the age of 19.

Among her many accolades, Ms. Adichie has been awarded a Hodder fellowship at Princeton University (2005-2006) and a fellowship at the Radcliffe Institute of Harvard University (2011-2012). In 2008, Ms. Adichie earned a coveted MacArthur Genius Award.

Ms. Adichie's work is read around the world, and has been translated into over thirty languages. Her first novel Purple Hibiscus won the Commonwealth Writers' Prize, and her second novel, Half of a Yellow Sun, won the Orange Prize (now the Bailey's Women's Prize), which is the world's top prize for female writers. Her 2013 novel Americanah has received numerous accolades, including the US National Book Critics Circle Award. It was named one of The New York Times Top Ten Best Books of the Year.

Ms. Adichie has been invited to speak around the world. Most notably her 2009 TED Talk, The Danger of A Single Story, is now one of the top ten most-viewed TED Talks of all time, with over five millions views. Her 2012 TED talk, We Should All Be Feminists, has a started a worldwide conversation about feminism, especially after it inspired a song by Beyoncé. It was published as a book in 2014.

Her most recent book, Dear Ijeawele, or a Feminist Manifesto in Fifteen Suggestions, was published in March 2017.

Ms. Adichie is committed to assisting young aspiring writers. As one of her commitments, she leads an annual Writers Workshop in Nigeria, for which applications come from around the world.

Chimamanda Ngozi Adichie on One Maryland One Book

"I'm pleased and honored that Purple Hibiscus will be read by many people in the state I call my American home. Literature should 'instruct and delight' and I truly hope Marylanders will enjoy reading it."
Chimamanda Ngozi Adichie's 2009 TED Talk: The Danger of a Single Story